Looking for a gaming keyboard that will give you an edge in CS:GO? A keyboard that feels responsive, accurate, and comfortable can make all the difference in competitive gaming. But with so many options on the market, it can be hard to know where to start. That's why we've put together this guide to help you find the best gaming keyboard for CS:GO.
We've researched and tested a range of keyboards to bring you our top picks. Whether you're a casual player or a serious esports competitor, you'll find a keyboard here that will help you up your game. Let's dive in and see what sets these keyboards apart.
Top Picks
If you're looking for the best gaming keyboard for CS:GO, there are a few factors to consider. Firstly, you'll want to make sure the keyboard has a tactile feel so you can accurately and quickly input commands. Secondly, it should have programmable keys so you can customize the layout to your specific gaming needs.
Lastly, it should have anti-ghosting technology so that you can press multiple keys at once without losing accuracy or precision. One of the top picks for a gaming keyboard for CS:GO is the HyperX Alloy FPS Pro. It has Cherry MX Red switches for quick and responsive tactile feedback, and its compact design allows for more room for mouse movement.
It also boasts anti-ghosting and offers customizable lighting effects. Overall, the HyperX Alloy FPS Pro is a reliable and efficient option for those seeking a competitive edge in CS:GO.
1. Logitech G Pro X Mechanical Gaming Keyboard
Looking for a top-of-the-line mechanical gaming keyboard? Look no further than the Logitech G Pro X! This keyboard offers precision and reliability that gamers crave. With its swappable switches, you can choose your desired level of tactile feedback and actuation force. The Pro X also features customizable RGB lighting and a detachable cable for easy transportation.
Plus, the durable build of this keyboard ensures long-lasting use, even during intense gaming sessions. Overall, the Logitech G Pro X is a great investment for gamers who want a reliable and high-quality keyboard.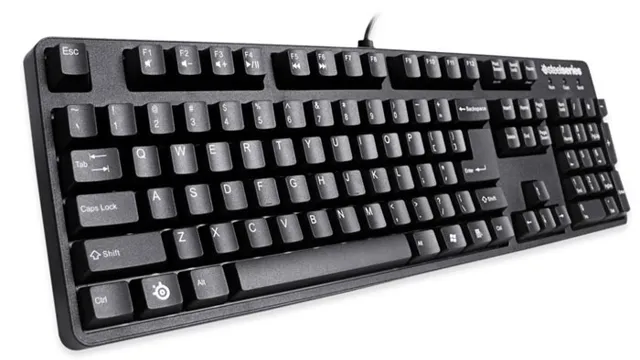 2. HyperX Alloy FPS Pro Mechanical Gaming Keyboard
When it comes to competitive gaming, a high-quality mechanical keyboard can make all the difference in your performance. The HyperX Alloy FPS Pro is a top pick for gamers due to its durable build, reliable Cherry MX switches, and compact design perfect for those on-the-go. The red LED backlighting adds a stylish touch while also allowing for visibility in low-light environments.
The detachable cable makes it easy to pack up and take on the road, while the included keycap puller allows for easy customization. Overall, the HyperX Alloy FPS Pro is a versatile and top-performing mechanical gaming keyboard that won't disappoint.
3. Razer Huntsman Tournament Edition Gaming Keyboard
If you're looking for a high-performing gaming keyboard, the Razer Huntsman Tournament Edition should be at the top of your list. This keyboard is designed to give you a competitive edge with its fast, responsive keys and customizable settings. The Huntsman Tournament Edition features Razer's proprietary Optical switches that use light-based technology to register key presses faster than traditional mechanical switches, giving you an advantage in fast-paced action games.
It's also incredibly durable and lightweight, making it easy to transport to events and tournaments. Overall, the Razer Huntsman Tournament Edition is an excellent choice for serious gamers who want to take their performance to the next level.
Factors to Consider
When it comes to finding the best gaming keyboard for CS:GO, there are a few factors to consider before making your purchase. Firstly, it's important to think about the type of switches you prefer. Mechanical switches offer a tactile feel and feedback, while membrane switches are quieter and more affordable.
Additionally, you'll want to consider the keyboard's size and layout. Full-sized keyboards offer a numeric keypad, while tenkeyless options are smaller and more portable. Key rollover and anti-ghosting features are also important for rapid and efficient gaming movements.
Additionally, customizable backlighting and programmable macro keys can enhance your gaming experience. Finally, consider the look and feel of the keyboard. Some gamers prefer a minimalistic design, while others opt for a more flashy and colorful style.
With these factors in mind, you'll be able to find the perfect keyboard to improve your CS:GO gameplay.
1. Switch Type
When it comes to choosing the right switch for your network, one of the first factors to consider is the switch type. There are several types of switches available, and each has its own unique strengths and weaknesses. For example, unmanaged switches are typically affordable and simple to set up, making them a great choice for small businesses or home networks.
However, they offer limited control over network traffic and cannot be customized to meet specific needs. On the other hand, managed switches offer greater control and flexibility, allowing you to prioritize traffic, set up VLANs, and more. However, they can be more complex to set up and may require more technical expertise.
Ultimately, the type of switch you choose will depend on your network's size, complexity, and specific needs. By carefully weighing the pros and cons of each type of switch, you can make an informed decision and ensure that your network is running smoothly and efficiently.
2. Keycaps
When it comes to selecting the perfect keycaps for your mechanical keyboard, there are several factors to consider. First and foremost is the material of the keycaps themselves. While ABS and PBT are the two most commonly used materials for keycaps, there are some differences between the two.
ABS keycaps tend to be shinier and have a slightly softer feel, while PBT keycaps are typically more durable and have a more textured surface. Another important consideration is the profile of the keycaps, which refers to their height and shape. Some popular profiles include OEM, Cherry, and DSA.
The type of switches on your keyboard may impact which profile is the most comfortable to type on. Finally, there's the design of the keycaps themselves. From minimalist and sleek to colorful and whimsical, there's no shortage of options to express your personal style.
Ultimately, selecting the right keycaps is a matter of balancing form and function to find the perfect fit for your individual needs.
3. Anti-Ghosting
When it comes to gaming, anti-ghosting is an essential factor to consider. Ghosting occurs when a keyboard fails to register multiple keys pressed at the same time, leading to an incomplete or missed command in a game. This can be frustrating for gamers and may lead to losing a game or missing an opportunity.
Anti-ghosting technology ensures that all keys are registered even when pressed at the same time. It allows gamers to play smoothly without experiencing any delays or missed commands. When purchasing a gaming keyboard, it's important to check the anti-ghosting capability of the device.
Look for keyboards with better anti-ghosting technology, like those that offer full-key rollover, to ensure better gaming experiences. By considering the anti-ghosting feature when buying a gaming keyboard, you'll be able to play games more effectively and with less disruption.
4. Durability
When looking for a durable product, there are several factors you should consider. First and foremost, the quality of the materials used. High-quality materials will not only last longer but also withstand wear and tear better than lower-quality materials.
Additionally, the design and construction of the product can play a huge role in its durability. Products with reinforced seams or sturdy frames will hold up much better over time than those that lack such features. Another factor to consider is maintenance.
Products that require regular maintenance, such as oiling or cleaning, are more likely to last longer than those that do not. Finally, it's essential to consider the intended use of the product. If the product will be subject to heavy usage, it's important to find one that can handle that kind of wear and tear.
By considering all of these factors, you can find a durable product that will last for years and provide the value you're looking for.
Conclusion
At the end of the day, finding the best gaming keyboard for CS:GO is no easy feat. With so many options to choose from, it can be overwhelming to narrow down what matters most. However, if you're looking to elevate your gameplay to the next level, investing in a keyboard designed specifically for gaming can make all the difference.
From mechanical switches to customizable backlighting, a gaming keyboard can provide the precision and responsiveness you need to dominate in CS:GO. So, whether you're a seasoned veteran or just starting out, don't underestimate the importance of a proper keyboard – after all, you never know when that split-second advantage could mean the difference between winning and losing."
FAQs
What features should I look for in a gaming keyboard for playing CS:GO?
When choosing a gaming keyboard for CS:GO, you should prioritize responsiveness, durability, and customizability. Look for a keyboard with Cherry MX switches, a sturdy base, and software that allows for macro programming and personalized key lighting.
Is a mechanical keyboard better than a membrane keyboard for playing CS:GO?
In general, mechanical keyboards are better suited for gaming than membrane keyboards because they offer greater accuracy and faster response times. However, the type of switch you choose can also have an impact on your gaming performance.
Are backlit keys important for playing CS:GO?
While backlit keys aren't essential for gameplay, they can be useful for playing in low-light environments or for customizing your keyboard's appearance. Many gaming keyboards offer RGB lighting that allows you to program personalized lighting effects and color schemes.
Do I need a specific brand of gaming keyboard for playing CS:GO?
No, you don't necessarily need a specific brand of gaming keyboard to play CS:GO. However, certain brands, such as Logitech, Razer, and Corsair, are known for producing high-quality gaming keyboards that are popular among CS:GO players. Ultimately, it's important to choose a keyboard that meets your specific needs and preferences.