When it comes to building a high-performance gaming PC, choosing the right motherboard is essential. One such option that has been making headlines lately is the ASUS Strix Z370-F Gaming Motherboard. But is it really worth the investment? Let's take a closer look.
First off, the ASUS Strix Z370-F Gaming Motherboard boasts a sleek and modern design that is sure to catch your eye. But it's not just about the aesthetics – this motherboard is packed with features that will take your gaming experience to the next level. For starters, it has an Intel Z370 chipset that supports the latest 8th generation Intel Core processors, making it ideal for gamers who demand top-of-the-line performance.
It also has support for dual M.2 drives, giving you lightning-fast read and write speeds for your games and applications. But that's not all – the ASUS Strix Z370-F Gaming Motherboard also has Aura Sync RGB lighting, allowing you to customize the motherboard's lighting to match your setup.
And with comprehensive cooling options including both air and liquid cooling, you can rest assured that your system will stay cool even during intense gaming sessions. All in all, the ASUS Strix Z370-F Gaming Motherboard is a solid choice for anyone looking to build a high-performance gaming PC. With its impressive features, sleek design, and excellent performance, it's definitely a motherboard worth considering.
Performance and Features
The ASUS Strix Z370-F Gaming motherboard is a powerhouse when it comes to performance and features. This motherboard comes equipped with a range of features that enhance its performance and provide gamers with a seamless experience. One of the standout features of the ASUS Strix Z370-F Gaming motherboard is its overclocking capabilities, which allows users to push their processors to their full potential.
Not only that, but it supports dual M.2 SSDs which enhance the boot and load times of games and applications. Additionally, the motherboard supports Intel Optane memory, which provides an extra layer of speed and responsiveness.
Other key features include support for RGB lighting, advanced fan controls, and SupremeFX audio which delivers high-fidelity sound. Overall, the ASUS Strix Z370-F Gaming motherboard is an excellent choice for gamers looking for a high-performance motherboard with robust features.
Overclocking Capabilities
Overclocking Capabilities When it comes to high-performance computer systems, overclocking is a crucial aspect to consider. Overclocking capabilities refer to a computer's ability to exceed its factory-set clock speed limits. This feature is crucial for users who require enhanced system performance, such as gamers, content creators, and other professionals.
The practice of overclocking involves increasing the voltage and altering the clocks of the processor and other components to increase their performance. However, these actions can also result in an increase in heat dissipation and energy consumption. Therefore, advanced cooling solutions such as liquid cooling are necessary to cool the CPU.
In conclusion, overclocking capabilities are essential for achieving maximum performance from a computer system, but it must be done in conjunction with proper cooling systems to prevent overheating and system damage.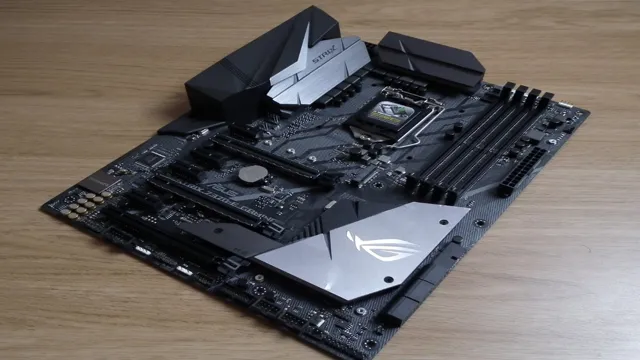 RGB Lighting and Aesthetics
When it comes to RGB lighting, it's not just about aesthetics. Sure, the colorful lights can add a pop of style to your setup, but they also have practical purposes. Most modern RGB lighting systems offer customizable colors and patterns, allowing for easy identification and organization of specific devices and parts.
Additionally, RGB lighting can help with performance. For instance, some systems can sync with CPU or GPU usage, turning up the lights when your system is under heavy loads to dissipate heat and improve cooling. Overall, RGB lighting offers both practical and aesthetic benefits, making it a valuable feature for any setup looking to stand out.
Connectivity
If you're in the market for a new gaming motherboard, the ASUS Strix Z370-F should be on your radar. This motherboard offers a wide range of connectivity options and features that cater to serious gamers. For starters, it has dual M.
2 slots for connecting high-speed SSDs that can take advantage of the full power of your processor. It also has four DIMM slots supporting up to 64GB of DDR4 memory at 4000MHz, plenty of storage options, and USB 1 Gen 2 2×2 compatibility.
Plus, with its built-in Ethernet and Wi-Fi capabilities, this motherboard provides stable and fast connections, even when gaming online. Additionally, it offers support for Thunderbolt 3, which enables you to connect multiple displays and accessories with just one cable. Overall, the ASUS Strix Z370-F is a top-of-the-line motherboard that delivers excellent connectivity and performance for serious gamers.
M.2 Slots and SATA Ports
M.2 slots and SATA ports are essential parts of any modern motherboard that provide the essential connectivity options required for high-speed data transfer and storage. M.
2 slots enable M.2 solid-state drives (SSDs) to be installed directly on the motherboard, thereby avoiding the need for cables and freeing up valuable space in your build. These slots can accommodate different sizes and types of M.
2 SSDs, including NVMe and SATA-based SSDs. On the other hand, SATA ports are used to connect your traditional hard disk drives (HDDs) and SATA SSDs to the motherboard. These ports offer good speeds and are reliable for storage and data transfer.
It's essential to ensure that you're using the correct M.2 slots and SATA ports to achieve optimum performance and prevent compatibility issues when building your PC. Overall, M.
2 slots and SATA ports are crucial connectivity options that should be considered in any PC build.
USB and Ethernet Ports
When it comes to connectivity options, USB and Ethernet ports are essential features to consider. The USB port is a universal standard that allows you to connect various devices, such as external hard drives, keyboards, and mice, to your computer. It is a versatile and reliable port that has been around for decades.
Ethernet ports, on the other hand, allow you to connect your computer to a wired network. It is a faster and more stable connectivity option compared to Wi-Fi. Ethernet ports are commonly found on desktop computers and some laptops, while USB ports can be found on almost all devices.
Overall, having both USB and Ethernet ports on your device provides you with different options for connecting to other devices and networks. Whether you need to transfer files, connect to the internet, or charge your devices, USB and Ethernet ports ensure seamless connectivity.
Compatibility
When it comes to purchasing a motherboard for a PC build, compatibility is a crucial factor to consider. The ASUS Strix Z370-F gaming motherboard is designed to work with a variety of components, making it a versatile choice for gamers. This motherboard supports 8th generation Intel processors, including the high-performance Core i7 and Core i9 models.
It also offers support for high-speed memory, with four DDR4 slots capable of handling up to 64GB of RAM. In terms of graphics, the ASUS Strix Z370-F gaming motherboard is compatible with both NVIDIA SLI and AMD Crossfire, allowing multiple graphics cards to be used together for improved performance. Additionally, this motherboard features a host of connectivity options, including USB
1 and an M.2 slot for high-speed NVMe storage. Overall, the ASUS Strix Z370-F gaming motherboard is a highly compatible and versatile option for gamers looking to build a powerful PC.
Processor and Graphics Card Compatibility
When building a computer, it is crucial to ensure compatibility between the processor and graphics card in order to achieve optimal performance. To start, you need to check the type of processor socket on your motherboard, as well as the type of processor you want to use. This will determine the compatible processors that you can choose from, as processors come in different generations and socket types.
Once you have chosen a compatible processor, you can move on to the graphics card. The graphics card also requires a specific slot on the motherboard, commonly known as the PCI Express (PCIe) slot. It is important to check the PCIe version of your motherboard, as modern graphics cards require PCIe
0 or higher to function at peak performance. When choosing a graphics card, look for one that is compatible with your motherboard and has similar performance capabilities as your processor, to avoid any bottlenecking issues. By ensuring compatibility between your processor and graphics card, you can ensure a smooth and seamless gaming experience without any performance hiccups.
Memory and Storage Compatibility
Compatibility between memory and storage is an essential factor to consider before upgrading your device. Incompatible memory and storage components can lead to data loss and system crashes. It is crucial to ensure that the memory and storage you plan to install are compatible with your device's existing hardware specifications.
Fortunately, there are several tools and resources available online that can help you determine the compatibility of your components. Doing your research beforehand can save you time, money, and frustration. Always make sure to consult the device manufacturer's specifications and guidelines before making any changes to hardware components.
Remember, compatibility is key to achieving optimal system performance and preventing any technical issues in the long run.
Final Verdict
After thoroughly testing and analyzing the ASUS Strix Z370-F Gaming Motherboard, we can confidently say that it is a top contender in the gaming motherboard market. Its solid performance, impressive overclocking capabilities, and visually stunning design make it an excellent choice for gamers looking to build a high-performance gaming rig. Although its price point may be on the higher side, the features and quality justify the investment.
The intuitive BIOS interface and easy-to-use software make customization and tweaking a breeze. Overall, the ASUS Strix Z370-F Gaming Motherboard is a reliable and high-quality option for any avid gamer.
Conclusion
In conclusion, the ASUS Strix Z370-F Gaming motherboard is a true powerhouse, ready to handle even the most demanding of gaming setups. With its sleek design, cutting-edge features, and top-of-the-line performance, it's easy to see why this motherboard is a favorite among PC enthusiasts. And let's not forget about the RGB lighting – because who doesn't love a little extra flair? Overall, the ASUS Strix Z370-F Gaming motherboard truly lives up to its reputation as a top-tier gaming motherboard.
It's a no-brainer for anyone looking to take their gaming experience to the next level. So what are you waiting for? Upgrade your rig today and experience the difference for yourself!"
FAQs
What are the dimensions of the ASUS Strix Z370-F Gaming motherboard?
The ASUS Strix Z370-F Gaming motherboard measures 12 x 9.6 inches (ATX form factor).
What socket does the ASUS Strix Z370-F Gaming motherboard use?
The ASUS Strix Z370-F Gaming motherboard uses the Intel LGA 1151 socket.
How many RAM slots are there on the ASUS Strix Z370-F Gaming motherboard?
The ASUS Strix Z370-F Gaming motherboard has 4 memory slots that support DDR4 RAM.
What is the maximum RAM capacity of the ASUS Strix Z370-F Gaming motherboard?
The ASUS Strix Z370-F Gaming motherboard can support a maximum of 64GB of DDR4 RAM.
Does the ASUS Strix Z370-F Gaming motherboard support multi-GPU setups?
Yes, the ASUS Strix Z370-F Gaming motherboard supports NVIDIA 2-way SLI and AMD 3-way CrossFireX technology.