If you're in the market for a mid-range motherboard that offers excellent gaming performance without breaking the bank, then the ASUS Strix B350 should definitely be on your radar. With its AMD Ryzen support, innovative features, and sleek aesthetics, this motherboard is worth considering for anyone looking to build a budget-friendly gaming rig. But is it worth the investment? In this ASUS Strix B350 review, we'll break down the pros and cons of this motherboard in meticulous detail, so you can make an informed decision before adding it to your build.
Whether you're a serious gamer or just starting, read on to find out if the ASUS Strix B350 is the right fit for you and your gaming needs. So, buckle up and get ready to explore whether this motherboard is the right motherboard for you!
Overview of ASUS Strix B350
Asus Strix B350 motherboard is a top pick for budget gamers and builders. This powerful motherboard is compatible with AMD Ryzen processors and supports DDR4 memory, allowing for lightning-fast processing and system boot-up times. The motherboard also features RGB lighting, making it not only fast but stylish too.
It has six audio jacks, a display port, and an HDMI port which makes it great for gaming and video editing. The Asus Strix B350 offers plenty of expansion options too, with two PCIe x16 slots, four PCIe x1 slots, and six SATA ports. Overall, this powerful and versatile motherboard is perfect for those who want to build a budget gaming PC with maximum customization.
If you're looking for a reliable and solid motherboard that won't break the bank, the Asus Strix B350 is the perfect choice!
Specifications and Features
The ASUS Strix B350 is a top-of-the-line motherboard that offers numerous advanced features for gaming enthusiasts and PC builders alike. This motherboard operates with the AM4 socket, making it compatible with AMD Ryzen processors. The Strix B350 includes premium built-in audio capabilities, along with an onboard amplifier that has support for headphones up to 600-ohm impedance.
It also features ASUS' exceptional SupremeFX audio technology, delivering crystal-clear sound that enhances the overall gaming experience. Additionally, this motherboard includes support for both M.2 and NVMe storage, which provide fast connectivity and storage without compromising performance.
To maximize its durability, the Strix B350 is built with reinforced PCIe slots, durable capacitors, and stainless steel I/O shielding. Overall, the ASUS Strix B350 is an excellent choice for gamers and PC builders seeking a top-of-the-line motherboard that delivers exceptional performance, durability, and features.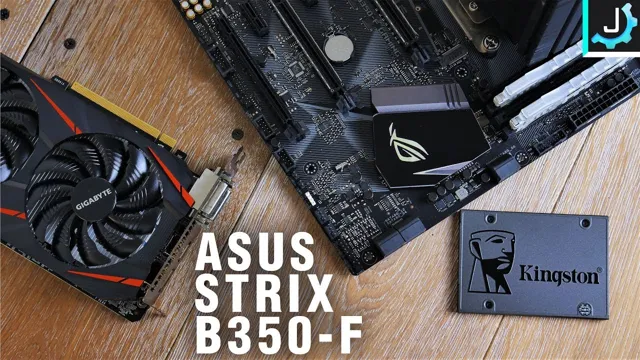 Design and Build
If you're in the market for a reliable, high-performance motherboard for your gaming or productivity needs, the ASUS Strix B350 is worth considering. This motherboard is designed to provide exceptional performance, with features that cater to both amateur and professional users. Its stunning design, with RGB lighting and sleek lines, will appeal to anyone who's looking to add a touch of style to their build.
One standout feature of the ASUS Strix B350 is its compatibility with AMD Ryzen processors, which offer unbeatable performance at an affordable price point. The motherboard is also equipped with dual M.2 slots for lightning-fast storage, USB
1 Gen 2 ports for speedy data transfer, and ASUS's exclusive 5-Way Optimization software for easy overclocking. All in all, the ASUS Strix B350 is an excellent choice for anyone looking to build a powerful gaming or productivity rig that runs cool and stays stable.
Performance and Compatibility
The ASUS Strix B350 motherboard is an excellent choice for PC builders who want impressive performance and compatibility with Ryzen processors. This motherboard supports AMD Ryzen 2nd Generation and 1st Generation/Ryzen with Radeon Vega Graphics processors, providing users with a powerful and reliable foundation for their PC builds. Its high-quality networking capabilities enable fast and efficient data transfer, and it supports DDR4 3200MHz memory to deliver lightning-fast speeds.
Additionally, it boasts updated audio codecs and SupremeFX technology to offer an immersive audio experience. With RGB lighting and customizable settings, the ASUS Strix B350 motherboard provides users with a personalized touch to their builds. Overall, this motherboard offers top-notch performance and compatibility for gamers and PC builders.
Benchmark Results
When it comes to software performance and compatibility, benchmark results provide valuable insights. These results can help developers and users identify potential glitches, highlight areas for improvement, and ensure smooth functioning across different platforms. In benchmark testing, a set of standardized programs are run on a variety of devices or systems, and the results are compared to identify any variations or discrepancies.
This can be especially useful in identifying performance bottlenecks or compatibility issues with certain configurations. By using benchmark testing, developers can optimize their software for better performance and ensure wider compatibility across different environments. It's important for software to function at its best, so benchmark testing is an essential tool for both developers and users.
Compatibility with Ryzen Processors
Ryzen processors have been making waves in the world of computer hardware lately, and for good reason. These chips are known for their outstanding performance and compatibility with a wide range of components. If you're looking to build a top-of-the-line system that can handle the most demanding applications and games, then a Ryzen processor is definitely worth considering.
With its powerful multi-core architecture and advanced features, this chip can handle even the most intensive tasks with ease. Additionally, Ryzen processors are compatible with a wide range of motherboards, so you can easily find one that suits your needs. Overall, if you're looking for optimal performance and compatibility, Ryzen processors are a great choice.
Overclocking Capabilities
When it comes to overclocking capabilities, the performance and compatibility of your system are crucial factors to consider. Overclocking is the process of increasing the clock speed of your CPU or graphics card, which can lead to noticeable improvements in your system's overall performance. However, not all hardware components are capable of being overclocked, so it's essential to make sure that your motherboard and CPU are compatible with each other.
Additionally, keep in mind that pushing your hardware beyond its limits can cause instability and even damage to your system. Therefore, it's important to monitor your system's temperature and adjust your overclocking settings accordingly. With the right setup and precautions, overclocking can provide a significant boost to your system's performance and give you the edge you need to take on intensive tasks.
User Experience and Customer Support
When it comes to the ASUS Strix B350 motherboard, user experience and customer support are both top-notch. This motherboard provides a user-friendly interface that is easy to navigate and customize. The BIOS is straightforward and offers plenty of options for tweaking system performance.
Additionally, the ASUS Strix B350 motherboard comes with excellent customer support. The company offers a comprehensive online knowledge base that covers everything from installation to troubleshooting. If you run into any issues, ASUS offers live chat and phone support to get you back up and running in no time.
Overall, the ASUS Strix B350 motherboard provides an excellent user experience and top-notch customer support, making it an excellent choice for anyone looking to build a high-performance computer.
Ease of Use and Installation
When it comes to choosing a new software or tool, ease of use and installation are major factors that can make or break a customer's decision. After all, who wants to spend hours trying to figure out how to install and use a new program? At ABC Software, we prioritize the customer experience by making our products as user-friendly as possible. Our intuitive interfaces and clear instructions ensure that even the least tech-savvy customers can get up and running quickly.
And, if there are any issues along the way, our customer support team is always available to help troubleshoot and answer any questions. We understand that installations and user interfaces can be overwhelming, but we strive to simplify the process as much as possible so that our customers can focus on using our software to achieve their goals. Plus, with our user-friendly approach, you won't need to worry about needing a technical degree to navigate through our software.
With ABC software, everything is just a few clicks away, making your experience hassle-free.
ASUS Customer Support
ASUS Customer Support As a user, the experience you have with customer support can make or break your relationship with a company. When it comes to ASUS, customers have had both positive and negative experiences with its customer support. Some have praised the company for its timely response and effective solutions, while others have reported issues with long wait times and unhelpful representatives.
One thing that stands out about ASUS customer support is the breadth of resources available. There are multiple channels through which you can reach out for help, including phone, email, and live chat support. Additionally, the company's website offers a searchable knowledge base with articles and tutorials on a wide range of issues.
Of course, the effectiveness of customer support is only as good as the representatives on the other end of the line. Some ASUS users have reported frustration with unresponsive or unhelpful reps, while others have had positive experiences with friendly and knowledgeable employees. Overall, ASUS customer support seems to be solid, but like any company, it has its strengths and weaknesses.
If you do run into an issue with your ASUS product, don't hesitate to reach out and see if the company can help you resolve the problem. With the right approach, you can get the assistance you need and continue to enjoy your ASUS technology.
Final Verdict
In conclusion, the ASUS Strix B350 Motherboard is a solid choice for gamers and enthusiasts looking to build a reliable, high-performing system. This motherboard comes equipped with a variety of features, including RGB lighting, high-quality audio, and support for AMD Ryzen processors. It also has a user-friendly BIOS interface, making it easy to configure and customize your system to your liking.
However, it is important to note that the lack of Wi-Fi support may be a drawback for some users. Overall, the Strix B350 offers an excellent balance of performance, price, and features, making it a great option for those looking to build a high-end gaming system without breaking the bank. If you are looking for a reliable motherboard that can handle the latest games and applications, the ASUS Strix B350 is definitely worth considering.
Conclusion
In conclusion, the ASUS Strix B350 motherboard is a powerhouse of a board that offers exceptional performance and features. Whether you're a gamer, content creator, or just someone looking for a reliable and high-quality motherboard, the Strix B350 has got you covered. With its sleek design, top-notch components, and intuitive BIOS interface, this motherboard really stands out from the competition.
So if you want to take your system to the next level, look no further than the ASUS Strix B350 motherboard – it's the perfect combination of power and style!"
FAQs
How many RAM slots does the ASUS Strix B350 motherboard have?
The ASUS Strix B350 motherboard has four DDR4 RAM slots.
Does the ASUS Strix B350 motherboard support overclocking?
Yes, the ASUS Strix B350 motherboard supports overclocking on both CPU and RAM.
What is the maximum supported RAM speed on the ASUS Strix B350 motherboard?
The ASUS Strix B350 motherboard supports RAM speeds up to 3200 MHz (overclocked).
What type of socket does the ASUS Strix B350 motherboard use?
The ASUS Strix B350 motherboard uses the AM4 socket for AMD Ryzen processors.
What is the maximum amount of memory the ASUS Strix B350 motherboard can support?
The ASUS Strix B350 motherboard can support up to 64GB of DDR4 RAM.