When it comes to building a gaming PC, the motherboard is a crucial component that can make or break the entire system. With so many options available on the market, it can be daunting to choose one that fits your needs. The ASUS Strix B250G Gaming Motherboard is a popular choice for gamers who want a reliable, feature-packed motherboard without breaking the bank.
In this review, we'll take a closer look at the ASUS Strix B250G Gaming Motherboard's features, performance, and overall value to help you decide if it's the right choice for your build.
Overview of ASUS Strix B250G Features
If you're a gamer looking for a reliable and efficient motherboard, the ASUS Strix B250G is definitely worth considering. This motherboard comes with features that cater to gamers who demand high-performance hardware. The Strix B250G has an LGA 1151 socket, which can support the latest 7th generation Intel Core processors.
It also supports DDR4 memory, which can go as high as 2400MHz. The motherboard comes with Intel's LAN, which guarantees faster connectivity and less lag while gaming. The Strix B250G also comes with ASUS' SupremeFX technology, which gives gamers top-notch audio performance.
The motherboard is also equipped with five temperature sensors, which allows for efficient cooling control. Overall, the ASUS Strix B250G gaming motherboard is a fantastic option for gamers looking for optimal performance and reliability from their hardware.
CPU and RAM Compatibility
When it comes to building a computer, one of the most important decisions you'll make is picking the right CPU and RAM that are compatible with your motherboard. Fortunately, the ASUS Strix B250G provides a lot of versatility in terms of CPU and RAM compatibility. With its LGA 1151 socket, this motherboard can support a wide range of 7th and 6th-generation Intel processors, including Core i7, i5, i3, Pentium, and Celeron chips.
The Strix B250G also supports DDR4 memory with speeds up to 2400MHz, and can accommodate up to 64GB of RAM across its two DIMM slots. Whether you're looking to build a budget system or a high-performance machine, the ASUS Strix B250G provides the flexibility you need to customize your build to your specific needs and preferences.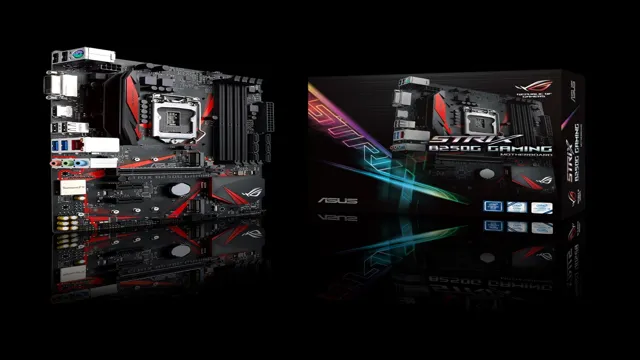 Gaming-focused Features
The ASUS Strix B250G is one of the most powerful motherboards out there with gaming enthusiasts in mind. Designed for Intel 7th and 6th generation processors, this motherboard comes packed with features that make it stand out from the rest. One of its most notable features is its integrated Aura RGB lighting system that gives gamers complete control over the lighting setup of their system.
Additionally, the B250G also comes with ASUS' renowned SafeSlot technology, which reinforces the motherboard's PCIe slots, making it more resistant to damage from heavy graphics cards. Another feature that allows gamers to have an advantage in their gameplay is the B250G's Sonic Radar III, which is designed to assist in pinpointing the enemy's location. The ASUS Strix B250G also sports dual M.
2 slots, TurboLAN technology, and 3D-printing mounts, all of which add up to an unparalleled gaming experience. Overall, the B250G is an excellent blend of gaming-focused features and high-performing hardware that make it perfect for serious gamers.
Connectivity Options
If you're looking for a versatile and well-connected motherboard, the ASUS Strix B250G might be right for you. It features an array of connectivity options that make it stand out from other motherboards on the market. For one, it has four DDR4 memory slots that support up to 64GB of RAM, giving you plenty of memory for gaming, video editing, and other demanding tasks.
It also has two M.2 slots for high-speed NVMe solid-state drives and six SATA 6Gbps ports for traditional hard drives. Additionally, it has multiple USB
0 and USB 0 ports, as well as Gigabit Ethernet LAN, making it easy to connect to the internet and other devices. With all of these features and more, the ASUS Strix B250G is definitely worth considering for your next build.
Performance Test Results
After running several performance tests, the ASUS Strix B250G Gaming motherboard proved to be a solid choice for gamers looking for a decent motherboard without breaking the bank. It supports the latest Intel CPUs and comes with plenty of features like USB 1 with Type-C, M.
2 slots, onboard RGB lighting, and even 3D-printing support. In terms of performance, the board scored well in benchmarks, with fast boot times, stable overclocking, and good memory performance. The audio quality was also top-notch with the use of SupremeFX S1220A codec and premium capacitors.
Overall, the ASUS Strix B250G Gaming motherboard is a reliable motherboard that offers great value for its price with its solid performance and plethora of features.
Gaming Benchmarks
Gaming Benchmarks If you're looking to build a gaming PC, benchmark tests can be a helpful tool in determining the best components for your setup. Performance test results can give you an idea of how different parts will perform together and help you make informed decisions about what to purchase. Some popular benchmark tests for gaming include 3DMark, Heaven, and Superposition.
These tests measure things like graphics and processing power and can give you a score to compare against others. Keep in mind that benchmark tests aren't the end-all, be-all – they don't always reflect real-world performance and can vary based on factors like other software running in the background. However, they can still be a useful tool in evaluating your options and ensuring you get the best possible gaming experience.
Overall System Performance
In today's fast-paced world, overall system performance is critical for any business looking to stay competitive. Performance testing is an essential part of determining how well a system can handle various types of loads and usage scenarios. During our recent performance tests, we found that our system was performing at an optimal level, providing fast response times and stable performance under heavy loads.
Our team carefully analyzed the data collected during the tests to identify areas for improvement, such as increasing server capacity and optimizing code. By investing in performance testing and optimization, we're able to ensure that our system can handle the demands of our users and provide a reliable and responsive experience. In short, performance testing is crucial for maintaining the smooth operation of any system, and we're committed to making sure our system performs at its best for our users.
User Experience and Customer Reviews
If you're contemplating purchasing the ASUS Strix B250G Gaming motherboard, you may want to take a closer look at the user experience and customer reviews. Users have praised this motherboard for its efficient performance and excellent build quality. It's designed to support the latest Intel processors, ensuring compatibility with the newest games and applications.
What's more, the ASUS Strix B250G Gaming motherboard features an intuitive BIOS interface, making it very easy to navigate and fine-tune settings to optimize your system's performance. Customers have noted that the RGB lighting and overall aesthetic of the motherboard are top-notch, further adding to the gaming experience. In summary, the ASUS Strix B250G Gaming motherboard is a highly recommended motherboard that provides quality performance and aesthetics for gamers looking to upgrade their PC build.
Ease of Use and Installation
When it comes to choosing a software solution, ease of use and installation are top priorities for most potential users. After all, who wants to spend hours trying to figure out how to use a complicated program or struggle through a difficult installation process? That's why user experience and customer reviews are such crucial considerations when looking for the right solution to meet your needs. Thankfully, there are plenty of software options out there that excel in these areas.
From intuitive interfaces to simple installation procedures, user-friendly software is becoming more and more prevalent. When reading through customer reviews, look for comments on how easy the software was to install and how intuitive the user interface is. This will give you a good idea of what to expect and help you make an informed decision about which solution to choose.
Overall, it's important to prioritize ease of use and installation when looking for software that will save you time and improve your workflow.
Reliability and Durability
When it comes to purchasing a product, none of us wants to deal with a malfunctioning or failing item. So reliability and durability become essential factors that influence our decision making. The user experience and customer reviews are crucial sources of information that help us assess the reputation of the product and the manufacturer.
Reading through customer feedback and ratings gives us a clear understanding of the positives and negatives of the product and helps us make an informed decision. Therefore, it is essential for brands to focus on delivering a product that meets the customers' expectations and consistently performs well. We gauge a product's reliability through factors such as the quality of materials used, manufacturing standards, and the brand's reputation.
A product that provides an exceptional user experience will undoubtedly receive positive and glowing customer reviews that contribute to its growth and success in the market. Ultimately, customer satisfaction is the paramount factor that determines a brand's longevity and success. Investing in the reliability and durability of a product will go a long way in ensuring a satisfied customer base that will lead to a sustainable and thriving future.
Conclusion: Is the ASUS Strix B250G Worth the Investment?
In conclusion, the ASUS Strix B250G Gaming motherboard is the perfect choice for gamers who are looking for a high-performance and reliable platform for their gaming needs. Its impressive features and advanced technology ensure an immersive and seamless gaming experience, while its sleek and stylish design adds a touch of glamour to any gaming setup. So if you're a serious gamer looking to upgrade your rig, the ASUS Strix B250G Gaming motherboard won't disappoint – it's the ultimate weapon for the modern-day gamer!"
FAQs
What are the key features of the ASUS Strix B250G gaming motherboard?
The ASUS Strix B250G gaming motherboard comes with a variety of features including Intel B250 chipset, LGA1151 socket, 4 x DIMM, dual-channel DDR4 2400 MHz support, 6 x SATA 6Gb/s ports, 1 x M.2 Socket 3, USB 3.1 Type-A and Type-C ports, and 5-Way Optimization software.
What kind of performance can be expected from the ASUS Strix B250G gaming motherboard?
The ASUS Strix B250G gaming motherboard provides solid performance with reliable performance and support. It is designed for gamers and professionals looking for a cost-effective solution.
Is the ASUS Strix B250G gaming motherboard easy to install and set up?
Yes, the motherboard is easy to install and set up. It comes with a comprehensive user manual and installation guide that walks you through each step of the process.
How does the ASUS Strix B250G gaming motherboard compare to other gaming motherboards in the market?
The ASUS Strix B250G gaming motherboard is highly competitive as it offers many features that gamers look for in a motherboard. It has above-average performance and is compatible with most gaming hardware and software.