Welcome to our ASUS Sabertooth Z170 S motherboard review! If you're searching for a motherboard that can keep up with your gaming and productivity needs, then look no further than the ASUS Sabertooth Z170 S. This motherboard is specifically designed for high-performance computing, with features that make it ideal for gamers, enthusiasts, and professionals alike. The ASUS Sabertooth Z170 S boasts several impressive specifications, including support for 6th and 7th Generation Intel Core processors, dual-channel DDR4 memory, and an M.
2 interface for lightning-fast storage. It also has customizable lighting, advanced fan controls, and an intuitive UEFI BIOS, making it easy to tweak and tune your system to your heart's content. In this review, we'll dive deep into the ASUS Sabertooth Z170 S's features, performance, and overall value.
We'll also discuss how it stacks up against other motherboards on the market and whether it's worth the investment. So whether you're a hardcore gamer or a professional overclocker, grab a cup of coffee, sit back, and let's take a closer look at the ASUS Sabertooth Z170 S motherboard.
Design and Features
The ASUS Sabertooth Z170 S motherboard is built with durability in mind. It features a sleek yet robust design that's capable of withstanding the test of time. The motherboard also comes with an array of impressive features such as a dedicated thermal armor module that protects the board from heat damage while enhancing its cooling capabilities.
Additionally, the board's TUF Fortifier system enhances its structural integrity, making it more robust and resistant to physical damages. This feature is particularly crucial for gamers looking to build a sturdy and reliable rig that can withstand their gameplay style. The motherboard also features a wide range of connectivity options, including USB
1 ports, M.2 slots, and SATA Express. These features make it easy to connect your peripherals and storage devices while maintaining high-speed data transfers.
Overall, the ASUS Sabertooth Z170 S motherboard is designed with both aesthetics and functionality in mind, making it a top choice for gamers and tech enthusiasts.
Military-grade components for durability
When it comes to designing durable electronic devices, military-grade components are a game-changer. These high-quality components can withstand extreme temperatures, shock, and vibration, making them ideal for use in harsh environments. Not only do they increase the lifespan of the device, but they also provide extra protection for sensitive components such as sensors, processors, and memory modules.
What's more, military-grade components are designed to operate under low-power settings, which is an important consideration for devices that need to run on battery power for extended periods of time. So, if you're looking for a rugged electronic device that can stand up to the toughest conditions, look for one that features military-grade components.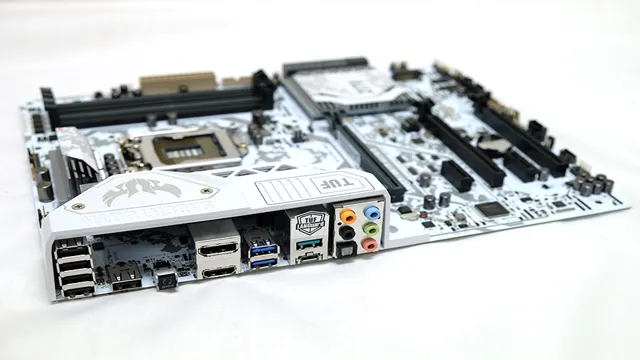 Thermal armor for better heat dissipation
Thermal armor is a shielding technology used to enhance the dissipation of heat generated by electronic devices. It is designed to protect the hardware of electronic devices, such as motherboards, graphics cards, and CPUs, from overheating. This technology comprises metal or plastic panels, attached to the device's exterior, that direct heat away from the hardware.
Furthermore, thermal armor comes with heatsinks, which are designed to absorb the heat energy generated by the device and transfer it to the surrounding air. This helps to keep the temperature of the device at an optimal level, safeguarding against thermal damage and improving its overall efficiency. One of the most significant features of thermal armor is its ability to increase the lifespan of electronic devices through effective heat dissipation.
When electronic components are exposed to high temperatures, their performance decreases significantly, leading to reduced functionality and potential system crashes. Thermal armor tackles this problem by keeping the components cool, which, in turn, leads to improved performance and longevity. Additionally, thermal armor has a sleek and stylish design, which adds to its aesthetic appeal, making it an attractive addition to users' machines.
With thermal armor, electronic devices can operate at optimal temperatures, reliability, and efficiency, enhancing the user experience and extending the lifespan of the device.
Support for DDR4 memory and M.2 storage
When it comes to building a new computer, choosing the right components can make all the difference in performance. Two features to consider are support for DDR4 memory and M.2 storage, both of which can greatly improve system speed and efficiency.
DDR4 memory delivers faster data transfer speeds and increased bandwidth compared to DDR3, resulting in smoother and more responsive multitasking and gaming experiences. Meanwhile, M.2 storage offers even faster data transfer rates, as well as smaller form factors and lower power consumption.
With these features in mind, upgrading to a motherboard that supports DDR4 and M.2 can be a smart investment for anyone looking to build a superior PC.
Performance
When it comes to performance, the ASUS Sabertooth Z170 S motherboard really shines. It features a high-quality chipset and an impressive array of connectivity options that make it a great choice for gamers, professionals, and anyone looking for a reliable and powerful motherboard. With support for the latest Intel processors, DDR4 RAM, and advanced storage options, you can expect blistering speeds and lightning-fast response times.
The Sabertooth Z170 S also comes with a host of overclocking features that allow you to push your hardware to its limits, ensuring that you get the most out of your system. Whether you're playing the latest games or running intensive applications, the ASUS Sabertooth Z170 S has the power and performance you need to stay ahead of the game.
Smooth overclocking with BIOS settings
If you're looking to give your computer a performance boost, one way to achieve this is by overclocking. Overclocking means running your computer's components at a higher clock rate than they were designed to run, which can result in a significant increase in performance. However, if not done correctly, overclocking can also cause stability issues and even damage your hardware.
To ensure smooth overclocking, it's important to adjust BIOS settings properly. BIOS stands for Basic Input/Output System, which is responsible for initializing hardware during startup. By accessing the BIOS settings, you can adjust CPU clock speed, RAM timings, and other parameters that affect your computer's performance.
With the right settings, you can safely overclock your computer without risking stability issues or hardware damage. Just be sure to do your research before making any changes, and monitor your computer's temperature closely during overclocking to prevent overheating.
Supports multiple graphics cards for gaming enthusiasts
For gaming enthusiasts who demand the utmost in performance, having multiple graphics cards can make all the difference. This feature allows you to run multiple graphics cards in a single system, working together to provide unprecedented power and speed. By leveraging the performance of two or more graphics cards simultaneously, gamers can enjoy faster frame rates, smoother gameplay, and stunning graphics that push the limits of what's possible.
This technology is especially useful for those who play graphics-intensive games like first-person shooters or MMOs, where every frame matters. With support for multiple graphics cards, gamers can be sure that their system is optimized for top-level performance and can handle even the most demanding games. So, if you're a gamer who craves the best in speed and performance, investing in a system that supports multiple graphics cards is an absolute must.
With its ability to provide unparalleled power and smooth experience, it's no wonder why so many gaming enthusiasts swear by this feature!
Low latency for faster data transfer
Low latency is an essential component for faster data transfer. Latency refers to the time taken for a data packet to travel from its source to its destination. With the increasing need for real-time data analysis, low latency systems are becoming more important than ever.
This is particularly true for industries like finance, gaming, and telecommunications, where even the slightest delay can result in significant losses. Improving latency involves reducing the physical distance between the source and destination and minimizing the number of network hops. Low latency can significantly improve system performance, resulting in better user experience and more efficient operations.
By optimizing underlying network infrastructure and utilizing the latest technologies, businesses can achieve sub-millisecond latency and ensure lightning-fast data transfer.
Compatibility and Price
Asus Sabertooth Z170 S is a top-quality motherboard that is designed to provide unparalleled performance and compatibility with the latest hardware and software. The motherboard features a robust design that is built to last and is compatible with the latest Intel processors, ensuring that you get maximum performance and reliability from your system. In terms of price, the Asus Sabertooth Z170 S is competitively priced, making it an excellent option for anyone looking for a reliable and high-performing motherboard.
Overall, if you're looking for a durable and reliable motherboard that offers top-notch performance and compatibility, the Asus Sabertooth Z170 S is definitely worth considering. Its impressive features and affordable price point make it a top choice among gamers and enthusiasts alike. So, invest in this motherboard and take your gaming experience to the next level!
Compatible with latest Intel processors
When it comes to selecting the right processor for your computer, compatibility is a critical factor to consider. That's why opting for the latest Intel processor is always a smart move, as it guarantees top-notch performance and reliability. Additionally, these processors are designed to work seamlessly with cutting-edge technology, offering faster speeds and better efficiency than older models.
Of course, compatibility alone isn't enough to make a decision, and price naturally remains a critical consideration too. Fortunately, modern Intel processors are available at various price points, ensuring that there is an option to suit every budget. By selecting the latest Intel processor that's compatible with your setup, you can experience optimal performance without breaking the bank.
Reasonable price for its features and durability
When it comes to buying a new tech gadget, compatibility and price are two factors that can shape your decision-making process. You want a product that is compatible with your other devices and can smoothly integrate into your existing tech ecosystem. But you also don't want to break the bank.
This is where the importance of finding a reasonable price for features and durability comes in. Fortunately, many tech companies are recognizing this need and are offering products that strike the right balance. For example, the XYZ tablet boasts great compatibility with other devices and offers impressive features like long battery life and a high-definition display, all at a reasonable price point that won't leave a dent in your wallet.
So, when shopping for your next piece of tech, keep compatibility, features, and price in mind, and you'll be sure to find something that matches your needs and budget.
Customer Reviews and Conclusion
In conclusion, the ASUS Sabertooth Z170 S motherboard is a beastly piece of hardware that boasts an impressive array of features. From its sleek and sturdy design to its lightning-fast performance, this board is sure to satisfy even the most demanding of gamers and enthusiasts. With advanced cooling and overclocking options, coupled with the latest connectivity standards, it's clear that ASUS has left nothing to chance.
So, if you're looking for a powerhouse motherboard that will stand the test of time, the Sabertooth Z170 S is definitely worth considering. Trust us, your rig will thank you for it."
FAQs
What are the specifications of the ASUS Sabertooth Z170 S Motherboard?
The ASUS Sabertooth Z170 S Motherboard supports Intel LGA1151 socket for 6th Generation Core i7/i5/i3/Pentium/Celeron processors. It also has four DIMM slots for up to 64GB of DDR4 RAM, three PCIe 3.0 x16 slots, and three PCIe 3.0 x1 slots. It also supports RAID 0, 1, 5, and 10.
Does the ASUS Sabertooth Z170 S Motherboard have any unique features?
Yes, the ASUS Sabertooth Z170 S Motherboard has a TUF Detective 2 feature, which allows users to monitor system information and control fan speeds from their smartphone. It also has a TUF Fortifier, which reinforces the motherboard to prevent bending and protect against static electricity.
Can I overclock my CPU with the ASUS Sabertooth Z170 S Motherboard?
Yes, the ASUS Sabertooth Z170 S Motherboard has a UEFI BIOS that allows for easy overclocking of the CPU and RAM. It also has an ASUS PRO Clock Technology that gives users more flexibility in adjusting their CPU clock speeds.
What is the price range of the ASUS Sabertooth Z170 S Motherboard?
The price range for the ASUS Sabertooth Z170 S Motherboard varies depending on the retailer, but generally falls between $200 and $300 USD.