Looking for a powerful gaming motherboard that won't break the bank? The ASUS ROG Strix B250H Gaming Motherboard may be just what you need. This impressive piece of hardware offers exceptional performance at a modest price, making it a great option for gamers looking to build their own system without overspending. But what makes the B250H Gaming Motherboard stand out from the competition? For starters, it boasts an impressive array of features, including support for multiple graphics cards, high-speed RAM, and USB
1 connectivity. It also has robust cooling capabilities to keep your system running smoothly, even under heavy loads. In this review, we'll take an in-depth look at the ASUS ROG Strix B250H Gaming Motherboard and evaluate its performance, design, and features.
We'll also compare it to other popular gaming motherboards on the market to help you decide if it's the right choice for your needs. So, whether you're a serious gamer or just looking to build a powerful PC, read on to find out if the B250H Gaming Motherboard is the right choice for you.
Introduction to the ASUS ROG Strix B250H
If you're looking for a reliable and powerful gaming motherboard, the ASUS ROG Strix B250H is one option you might consider. This motherboard comes with a range of features designed to help you get the most out of your gaming experience. It features support for the latest Intel processors, as well as PCI-E
0, M.2, and USB 1 support.
Additionally, the ASUS ROG Strix B250H boasts excellent audio performance, thanks to its SupremeFX audio system with Sonic Radar III technology. Other features include ASUS Aura Sync RGB lighting, giving you the freedom to customize the look of your motherboard to suit your style. The ASUS ROG Strix B250H is a versatile and powerful gaming motherboard that will help you take your gaming to the next level.
Key Features and Specs of the Motherboard
If you're looking for a high-quality motherboard that is perfect for power users, the ASUS ROG Strix B250H is definitely worth considering. This incredible piece of technology boasts a variety of key features and specs that set it apart from other motherboards on the market. For starters, it comes equipped with support for 7th-generation Intel Core processors, which means you'll be able to enjoy lightning-fast speeds and top-of-the-line performance.
Additionally, it features four DDR4 DIMM slots that can support up to 64GB of memory, as well as a variety of ports and connectors that make it easy to connect all your favorite devices. With its advanced cooling capabilities and customizable RGB lighting, the ASUS ROG Strix B250H is the perfect choice for anyone who is serious about gaming, streaming, or just getting the most out of their computer system.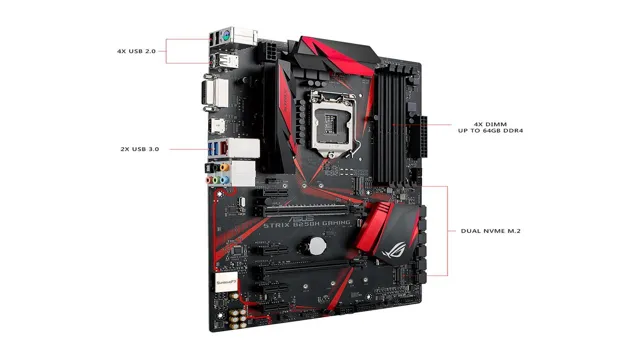 Unboxing and Installation Process
The ASUS ROG Strix B250H is an impressive motherboard designed for gaming enthusiasts. The unboxing and installation process is straightforward, and the package comes with all the necessary items such as a user manual, driver disk, SATA cables, and an I/O shield. The first step is to choose the right processor and RAM, compatible with the motherboard.
The next step is to install the CPU into the LGA 1151 socket, followed by attaching the heat sink and fans. Once this is done, install the RAM into the designated slots and connect the internal power cables. The ASUS ROG Strix B250H has plenty of connectivity options including PCIe slots, USB ports, HDMI, and DisplayPort.
Overall, the installation process is seamless, and users can start gaming on their new system in no time.
Performance and Benchmarks
Let's talk about performance and benchmarks when it comes to the ASUS ROG Strix B250H Gaming motherboard. This motherboard is equipped with a variety of features designed to enhance your gaming experience, such as SupremeFX audio technology and Intel Gigabit Ethernet. But what about the actual performance? Well, in benchmarks, the ASUS ROG Strix B250H Gaming has proven to be a solid choice.
It's capable of handling an Intel Core i7-7700K processor and supports up to 64GB of DDR4 memory. In terms of gaming performance, this motherboard has consistently delivered smooth gameplay with high frame rates and low latency. It's also worth noting that the ASUS ROG Strix B250H Gaming has some impressive overclocking capabilities, allowing you to push your system to its limits for even better performance.
Overall, if you're looking for a reliable, high-performance motherboard for your gaming setup, the ASUS ROG Strix B250H Gaming should definitely be on your list.
Processor Support and Overclocking
When it comes to maximizing your CPU's performance, your processor's support and overclocking abilities can make all the difference. Most processors come with their own set of limitations, but with the right hardware and software tweaks, you can push it beyond its normal capabilities. Overclocking, for instance, involves increasing the clock speed of your CPU so that it can perform faster than its stock speed.
This can result in significant performance improvements, especially when it comes to demanding tasks like gaming, video editing, or rendering. However, not all CPUs are designed to be overclocked, and doing so can also generate additional heat that could damage your system in the long run. That's why it's always important to check your processor's limitations and ensure that your cooling system is up to the task.
With the right configuration and patience, you can achieve remarkable speed improvements that could add a new dimension to your computing experience.
Memory Support and Speed
When it comes to memory support and speed, there are a few key factors that play an important role in overall performance. One of the most important metrics for measuring memory speed is latency, or the time it takes for the CPU to access data stored in memory. Lower latency means faster access times and better performance.
Another important factor is bandwidth, which determines how much data can be transferred between the memory and CPU at once. Higher bandwidth translates to faster data transfer rates and better overall performance. Benchmarks like the Memory Transfer Rate test can help you measure these metrics and determine how well your memory is performing.
By optimizing these metrics, you can ensure that your computer is running as smoothly and efficiently as possible.
Graphics and Gaming Performance
When it comes to graphics and gaming performance, one of the most important factors to consider is benchmarking. Benchmarking measures the performance of a system in a specific set of tasks or scenarios, providing a standardized score or rating that can be compared to other systems. For gamers and graphics professionals, benchmarking tools like 3DMark, GFXBench, and Cinebench are crucial in determining the capabilities and limitations of their systems.
These tools test various aspects of graphics and gaming performance, including resolution, texture quality, frame rates, and more. By analyzing benchmark scores, users can optimize their settings, upgrade their hardware, and make informed decisions about game and software compatibility. However, it's important to keep in mind that benchmark results aren't always indicative of real-world performance, as different applications may have varying requirements and optimizations.
Regardless, benchmarking is an essential tool for anyone looking to push their graphics and gaming performance to the next level.
Design and Build Quality
When it comes to the design and build quality of the ASUS ROG Strix B250H Gaming Motherboard, it's clear that attention to detail was a top priority. The sleek black and silver color scheme gives it a modern, professional look that will fit seamlessly into any gaming setup. The VRM heatsinks are impressively large and the backplate adds an extra layer of durability.
The board also boasts an M.2 heatsink that's well placed to help keep your storage from overheating. And let's not forget the reinforced PCIe slots that prevent any unwanted damage from heavy graphics cards.
Overall, the ASUS ROG Strix B250H Gaming Motherboard has a sturdy and robust build quality that ensures a long lifespan for your gaming rig.
Layout and Aesthetics
When it comes to creating a website, design and build quality can either make or break your user experience. The aesthetic appeal of your website is important for attracting and retaining users, as people are more likely to engage with a visually pleasing and easy-to-navigate layout. The build quality of your website's backend is also paramount for ensuring your website runs smoothly without any technical glitches or slow loading times.
If you want your website to stand out from the competition, it's important to prioritize design and build quality throughout the creation process. By doing so, you'll create a site that not only looks amazing, but also functions flawlessly, providing your users with a seamless and enjoyable experience.
Connectivity Options and Ports
When we talk about laptops, their design and build quality is a crucial aspect that can make or break their usability. It's essential to have a laptop that not only looks good but also feels sturdy and durable. Some factors that affect the laptop's build quality include the materials used, the design, and the fabrication process.
Additionally, the laptop's weight and form factor influence the user's ability to carry it around with them. A laptop that is too bulky or heavy won't be very convenient for commuting or working on the go. So, when selecting a laptop, it's essential to consider both its design and build quality to ensure maximum usability and durability.
Conclusion and Final Verdict
In a world where gaming setups can make or break your experience, the ASUS ROG Strix B250H Gaming motherboard is a formidable contender that delivers on both performance and style. With its impressive features that cater to both casual and hardcore gamers, this motherboard is the perfect choice for anyone looking to up their game. From its sleek design to its powerful performance, the ASUS ROG Strix B250H Gaming motherboard is a definite winner.
So, why settle for anything less when you can have ROG in your corner?"
FAQs
What are the key features of the ASUS ROG Strix B250H gaming motherboard?
The ASUS ROG Strix B250H gaming motherboard boasts features such as DDR4 memory support, SupremeFX audio, and an advanced fan control system.
Is the ASUS ROG Strix B250H motherboard compatible with Intel 7th generation processors?
Yes, the ASUS ROG Strix B250H motherboard is compatible with Intel 7th generation Core processors.
Does the ASUS ROG Strix B250H motherboard support overclocking?
Yes, the ASUS ROG Strix B250H motherboard supports overclocking, allowing you to boost the performance of your system.
What is the price point of the ASUS ROG Strix B250H motherboard?
The ASUS ROG Strix B250H motherboard typically ranges in price from $100 to $150, depending on where it is purchased.
What kind of expansion slots does the ASUS ROG Strix B250H motherboard have?
The ASUS ROG Strix B250H motherboard has one PCIe x16 slot, two PCIe x1 slots, and two M.2 slots for SSDs.