Looking for an affordable motherboard with exceptional performance that can support your gaming rig or workstation? Look no further than the ASUS Prime B250M-K motherboard. This budget-friendly motherboard delivers reliable and stable performance, making it an ideal choice for those on a tight budget. With its sleek design, impressive features, and easy-to-use BIOS, the ASUS Prime B250M-K is a motherboard that won't disappoint.
One of the key features of the ASUS Prime B250M-K is its support for 7th and 6th generation Intel Core processors, giving you plenty of power to keep up with demanding applications and games. Additionally, this motherboard features a versatile and roomy design, allowing you to easily customize and upgrade it to meet your specific needs. Furthermore, with its advanced cooling technology, the ASUS Prime B250M-K can maintain optimal temperature levels even when your system is working overtime.
This means less heat, less noise, and longer lifespan for your components. Finally, the ASUS Prime B250M-K also comes with high-speed data transfer capabilities, including M.2 and USB
1 support, which means faster load times and quick installation of your favorite applications and games. Overall, the ASUS Prime B250M-K is an excellent choice for anyone who wants affordable performance and versatility in a single package. So, if you're looking for a reliable motherboard that won't break the bank, this is definitely one to consider.
Overview
Asus Prime B250M-K is a budget-friendly, micro-ATX motherboard that offers excellent performance for its price range. It boasts an Intel B250 chipset that supports the latest 7th and 6th Generation Intel Core processors. It also has two DDR4 DIMM slots that can support up to 32GB of memory and optimized trace paths to enhance the memory frequency speeds.
Furthermore, this motherboard features integrated Intel HD Graphics technology, which delivers outstanding graphics performance for casual use. It also has four SATA III ports and one M.2 slot for faster data transfer rates.
The Asus Prime B250M-K motherboard's audio system is not left behind, as it comes with the Realtek ALC887 audio codec and Asus exclusive sonic radar technology for exceptional sound quality. Overall, the Asus Prime B250M-K motherboard is an excellent choice for budget-oriented builds that don't compromise on performance.
Specifications
When it comes to specifications, it's important to know what you're getting in a product before making a purchase. In the world of technology, specifications refer to the technical details that describe a device's features and capabilities. For instance, a phone's specifications would include information about its display size, camera resolution, battery life, and operating system.
These specifications are crucial in determining whether a device will meet your needs and expectations. They provide a clear picture of what a device is capable of and can help you compare similar products. Knowing the specifications of a product can also help you troubleshoot issues and optimize its performance.
So, before you buy a new gadget, take the time to review its specifications to ensure it fits your requirements.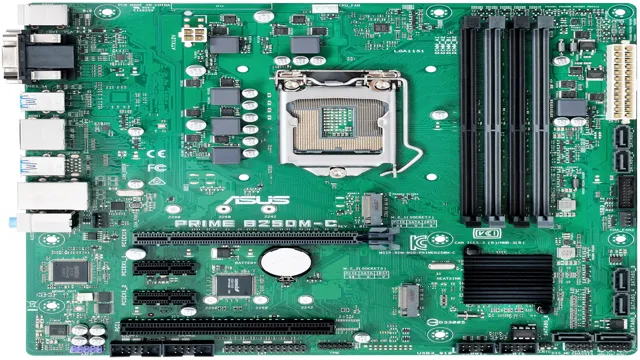 Performance and Features
When it comes to performance and features, there is a lot to consider in today's high-tech world. From lightning-fast processing speeds to advanced AI capabilities, the demands on technology have grown exponentially in recent years. But with the right combination of hardware and software, devices can keep up with even the most complex tasks.
At the heart of it all is the processing power of a device, which determines how quickly it can execute commands and run applications. With advanced hardware like the latest Intel processors, you can expect lightning-fast speeds and optimal performance even when running multiple applications simultaneously. In addition to power, features like voice-activated assistants, facial recognition, and touchscreens provide a more intuitive and user-friendly experience.
All of these factors come together to create a seamless and efficient technological experience.
Design and Build Quality
The Asus Prime B250M-K motherboard is a well-designed and sturdy piece of hardware that is built to last. Its compact size and efficient layout make it a great choice for those looking for a high-quality motherboard that won't take up too much space in their PC build. The build quality is impressive, with solid capacitors and high-quality components that provide stable and reliable performance.
The overall design is sleek and modern, with a subtle yet stylish look that adds a touch of elegance to any build. The heft and weight of the motherboard reflect its robust construction and inspires confidence in its durability. The installation process is straightforward, making it easy to set up and get going with minimal effort.
Overall, the Asus Prime B250M-K is an excellent choice for anyone looking for a top-quality motherboard that offers reliable performance and great value for money.
Layout and Ports
The layout and ports of a device play a crucial role in its overall design and build quality. When it comes to the layout, it's important for the device to have well-placed buttons and a comfortable grip. The size and weight of the device should also be considered to ensure ease of use and portability.
In terms of ports, it's important for the device to have a sufficient number of ports for its intended use. This includes ports for charging, data transfer, audio output, and video output. The quality of these ports is also important to ensure durability and longevity of the device.
Overall, the design and build quality of a device is essential for a positive user experience and should be carefully considered during the development process.
Construction and Durability
When it comes to construction and durability, it's important to consider the design and build quality of a product. A well-designed product with high build quality will not only look good but also be able to withstand the tests of time and use. Poorly designed products often have weak points that can fail quickly, resulting in a frustrating user experience, while high-quality designed products are constructed to last.
Think of it like a well-built house versus a poorly constructed one. The former is designed with specific considerations of the materials used, layout, structural elements, and environmental factors, while the latter may be slapped together with cheap materials, weak support structures, and no regard for making sure it can withstand heavy rain, wind or other elements that would test its soundness. In short, the design and build quality of a product should be top of mind when considering its durability.
Companies that prioritize these factors will ultimately produce products that can last longer and withstand more wear and tear, which saves consumers money, improves their experience, and builds trust in the company. So next time you're shopping for a product, be sure to consider its design and build quality as a major factor in its potential lifespan.
BIOS and Software
When it comes to the ASUS Prime B250M-K Motherboard, the BIOS and software are just as impressive as the hardware. The BIOS is user-friendly and intuitive, allowing for easy customization of various settings such as temperature monitoring, fan control, and overclocking. The software, such as the ASUS AI Suite 3, provides additional features like system monitoring and optimization tools, making it easy to keep your system running smoothly.
Whether you're a seasoned pro or new to the world of building your own systems, the ASUS Prime B250M-K motherboard's BIOS and software are sure to make the process as seamless as possible. Overall, this motherboard is a great choice for those looking for a reliable, high-quality option with excellent features and functionality.
Ease of Use and Customization
When it comes to ease of use and customization in a computer's BIOS and software, it can have a significant impact on a user's experience. The BIOS (basic input/output system) is responsible for controlling various hardware components such as the hard drive, RAM, and graphics card. It is vital for the user to easily navigate the BIOS menu and make necessary changes to improve the computer's performance and functionality.
Similarly, user-friendly software is crucial for customization options, such as changing the color schemes, selecting themes, and personalizing settings. The main keyword "ease of use and customization" ensures that the user can easily navigate and modify the system to their liking. With a user-friendly BIOS and software, even a non-technical person can perform these tasks hassle-free and enjoy a smooth computing experience.
Pre-Installed Utilities and Drivers
When it comes to buying a new computer or laptop, it's important to pay attention to the BIOS and software that come pre-installed. The BIOS (basic input/output system) is a set of instructions that tell your computer how to start up and communicate with hardware components like your hard drive, keyboard, and mouse. It's important that your BIOS is up-to-date and compatible with your hardware in order for your computer to function properly.
In addition to the BIOS, you'll want to take a look at the software that's pre-installed on your computer. This includes utilities and drivers for things like your graphics card, WiFi adapter, and other hardware components. It's important to make sure these drivers are updated regularly to ensure optimal performance and compatibility with the latest software updates.
By keeping an eye on your BIOS and pre-installed software, you can avoid potential issues down the road and keep your computer running smoothly.
Value for Money
The ASUS Prime B250M-K motherboard is a great value for money option for anyone looking to build a budget-friendly PC without compromising on performance. This motherboard is a micro-ATX form factor and supports the 7th generation Intel Core processors. It also features ASUS' 5X Protection III system that safeguards the motherboard from potential damage caused by voltage spikes, power surges, and overloading.
The Q-Fan control system helps keep the system cool and silent while consuming minimal energy, thus reduing the power bill. Additionally, the UEFI BIOS with EZ mode simplifies the setup process, while USB 1 Gen 1 provides high-speed data transfer and fast charging capabilities to all connected devices.
All in all, the ASUS Prime B250M-K motherboard is a highly reliable and efficient option that provides exceptional value for money. Whether you're a gamer or a tech enthusiast, this motherboard can definitely meet your needs without breaking the bank.
Conclusion
In conclusion, the ASUS Prime B250M-K motherboard is the perfect choice for budget-conscious gamers and professionals. With its solid build quality, efficient cooling system, and comprehensive feature set, this board performs exceptionally well with Intel's 7th and 6th generation processors. Whether you're looking to build a compact desktop or a mid-range gaming rig, this motherboard will undoubtedly meet your expectations.
So, there you have it – a witty and clever explanation of the ASUS Prime B250M-K motherboard. It's not just any ordinary motherboard, it's the prime choice for your next PC build!
FAQs
What are the specifications of the ASUS Prime B250M-K motherboard?
The ASUS Prime B250M-K motherboard supports Intel 7th/6th generation processors, DDR4 memory, and has USB 3.0 and SATA 6Gb/s interfaces.
Does the ASUS Prime B250M-K motherboard support overclocking?
No, the ASUS Prime B250M-K motherboard does not support overclocking, as it is not designed for high-performance usage.
Is the ASUS Prime B250M-K motherboard suitable for gaming?
Yes, the ASUS Prime B250M-K motherboard is suitable for casual gaming, as it has support for the latest DDR4 memory and USB 3.0 interfaces.
Can I use the ASUS Prime B250M-K motherboard for building a budget PC?
Yes, the ASUS Prime B250M-K motherboard is an excellent choice for building a budget PC, as it offers adequate features and performance at an affordable price point.
What is the warranty period for the ASUS Prime B250M-K motherboard?
The ASUS Prime B250M-K motherboard comes with a three-year warranty period, which covers any defects or malfunctioning of the board during normal usage.