If you're looking for a reliable and cost-effective motherboard for your gaming or productivity needs, then you might want to consider the ASUS M4A785TD-V EVO. With its advanced feature set and robust design, this motherboard can handle the most demanding tasks with ease. What sets the ASUS M4A785TD-V EVO apart from the competition is its support for AMD CPUs, which offer outstanding performance and power efficiency.
Additionally, the motherboard comes equipped with numerous expansion slots and ports, allowing you to customize and upgrade your system as needed. But what really stands out about the ASUS M4A785TD-V EVO is its exceptional build quality and durability. ASUS is well-known for producing high-quality hardware, and this motherboard is no exception.
Whether you're a professional gamer or a casual user, the ASUS M4A785TD-V EVO is sure to meet your needs. So, if you're in the market for a reliable and high-performance motherboard, the ASUS M4A785TD-V EVO is definitely worth checking out. With its advanced features, excellent build quality, and affordable price tag, it's no wonder that this motherboard has become a popular choice among tech enthusiasts worldwide.
Why settle for less when you can have the best?
Specs and Features
The ASUS M4A785TD-V EVO motherboard is a reliable and efficient option for those looking to build a mid-range gaming or multimedia computer. The motherboard supports AM3 processors, including the AMD Phenom II, Athlon II, and Sempron 100 series, making it an excellent choice for those seeking high-performance computing. Additionally, it features the AMD 785G chipset, which provides a host of features, including support for DirectX
1 and UVD 0, which delivers superior image quality and video playback. This motherboard also supports up to 16GB of DDR3 memory, providing sufficient space to store and run multiple applications simultaneously.
Other notable features of this motherboard include five SATA 3Gb/s ports, one eSATA port, onboard gigabit Ethernet, and high-definition audio output. Overall, the ASUS M4A785TD-V EVO is a great option for those seeking a reliable, efficient, and high-performance motherboard.
AMD Socket AM3 Compatible
If you're in the market for a new processor, the AMD Socket AM3 is definitely worth looking into. With its compatibility with a wide range of CPUs, it offers a lot of flexibility in terms of your upgrade options. This socket supports AMD Phenom II and AMD Athlon II processors, giving you access to some of the most powerful CPUs on the market.
Whether you're a gamer, an enthusiast, or just looking for a reliable processor for your everyday use, the AMD Socket AM3 is definitely worth considering. With its high performance and compatibility, it's a great choice for anyone looking for power and speed. So why not upgrade your system today and experience the difference for yourself?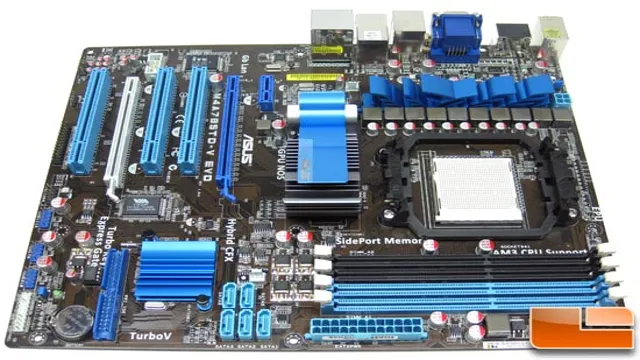 DDR3 RAM Support
DDR3 RAM DDR3 RAM is a popular memory technology used in PCs and laptops. It comes with enhanced transfer speeds and improved power efficiency, making it a favorite among tech enthusiasts and gamers. DDR3 RAM is supported by most modern motherboards, and it can deliver data transfer rates of up to 2133MHz.
This technology has a lower power consumption than previous generations, making it ideal for portable devices such as laptops and tablets. The improved power efficiency also means that DDR3 RAM generates less heat, which can extend the lifespan of your computer hardware. With DDR3 RAM, you can enjoy a smooth and fast computing experience, whether you're gaming, browsing the web, or working on complex applications.
Overall, DDR3 RAM is an excellent choice for anyone looking to upgrade their computer's memory.
ATX Form Factor
When it comes to building a custom PC, choosing the right motherboard is vital. One popular option for building a PC is the ATX form factor. ATX motherboards have been around since the mid-1990s and have become the industry standard due to their versatility and size.
One of the most significant advantages of ATX motherboards is their size, measuring 305 mm x 244 mm. The standard size allows for more expansion slots, typically including up to seven PCI slots for additional hardware, such as GPU, sound, or network cards. Additionally, ATX motherboards often have more RAM slots and SATA ports.
This makes them ideal for gamers, content creators, and other professionals who need a lot of hardware to run their programs. The ATX form factor is an incredibly versatile motherboard option. It can accommodate a range of processors, including AMD and Intel CPUs, making it easier to upgrade or switch processors.
Additionally, ATX motherboards usually have a high speed of data transfer due to the efficient design. However, it's essential to note that ATX motherboards are typically larger than other form factors, meaning that you may need a larger case to fit them in. In conclusion, ATX motherboards are perfect for anyone who needs a versatile and powerful motherboard that can handle a lot of hardware.
They're easily upgradable, offer plenty of expansion opportunities, and have excellent data transfer speeds. When building a custom PC, be sure to consider the ATX form factor.
Integrated Graphics
Integrated Graphics Integrated graphics are on-board graphics processors that are incorporated on the motherboard or CPU (Central Processing Unit) chip. These graphics processors are designed to be used for everyday computing tasks such as browsing the internet, watching videos, and creating documents. The benefit of having integrated graphics is that it helps keep the cost of the computer down as it eliminates the need for a dedicated graphics card.
Integrated graphics often have lower performance than dedicated graphics cards, but they are more than sufficient for most basic computing tasks. Some CPUs such as Intel's latest 11th-generation chips, feature advanced integrated graphics that can handle light gaming and video editing tasks. Overall, integrated graphics provide a decent level of performance and are a cost-effective way to build a computer for everyday use.
Performance
Looking for a high-performing motherboard that can handle all your computing needs? Look no further than the ASUS M4A785TD-V EVO. This motherboard is packed with all the features you need to get the most out of your computer, including support for AMD quad-core processors and DDR3 memory. With its advanced power saving features, you can rest assured that this motherboard will provide reliable performance without putting a strain on your wallet.
Plus, with its built-in graphics processor and support for high-definition video, you'll be able to enjoy stunning visuals without any lag or distortion. Overall, the ASUS M4A785TD-V EVO is a top-of-the-line motherboard that delivers exceptional performance and reliability in every regard. So why wait? Upgrade your computer today and experience the ultimate in computing power and efficiency!
Benchmark Results
Benchmark Results When it comes to measuring the performance of a system, benchmarking is the go-to method. It involves running tests and analyzing the results to determine how well the system performs compared to other systems. In the world of technology, benchmark results are used to evaluate the efficiency of hardware and software components.
From processors to storage devices, benchmarking helps us understand the capabilities and limits of these components. By using benchmarking software, users can obtain quantitative measures like processing speed, graphics rendering, and data transfer rates. These numbers help in making informed decisions when purchasing or upgrading systems.
However, it's important to note that while benchmarks provide valuable data, they don't always reflect real-world usage scenarios. Nonetheless, benchmark results are a useful tool to have in assessing performance.
Overclocking Capabilities
When it comes to performance, overclocking capabilities play an important role in boosting the speed and efficiency of your computer. Overclocking refers to the process of running your computer hardware at a higher speed than what it is originally designed for. This means that you can potentially see a significant increase in the performance of your system, whether it's a faster startup time, shorter rendering times, or smoother gameplay experience.
Of course, not all hardware is capable of overclocking, and it's important to do your research and ensure that your components are compatible before attempting to do so. Additionally, it's important to note that overclocking can potentially lead to increased heat generation, which can be harmful to your hardware if not managed properly. However, if done correctly, overclocking can be a powerful tool in achieving optimal performance for your system.
Ease of Use
Asus motherboard M4A785TD-V Evo has been praised for its ease of use, making it a popular choice among beginner and intermediate computer builders. The BIOS interface is user-friendly and easy to navigate, with options to adjust overclocking settings and monitor system performance. The motherboard also comes with convenient features such as the EZ-Flash 2 utility, which allows for easy updating of the BIOS firmware without the need for a bootable floppy disk or operating system.
The layout of the board is well-designed with clear labeling for easy installation of components, and the onboard connectors are logically placed for optimal cable management. Overall, the Asus M4A785TD-V Evo is a reliable and easy-to-use choice for those looking to build their own computer system.
BIOS Interface
When it comes to accessing and navigating a computer's BIOS interface, ease of use is a crucial factor. Thankfully, many modern BIOS interfaces have come a long way in terms of user-friendliness. For example, many newer interfaces include a GUI (graphical user interface) that allows users to easily navigate and make changes without needing to input complex commands.
Additionally, some interfaces even include helpful tooltips and explanations to guide users through various options and settings. Improvements like these make it easier for both novice and experienced users to access and modify BIOS settings, ultimately leading to a smoother and more efficient computing experience. At the end of the day, a more user-friendly BIOS interface can save time, reduce frustration, and ultimately lead to a better overall computer experience for users.
Installation Process
When it comes to installing a new program or software, we all want it to be easy and straightforward. Well, that's exactly what you can expect from the installation process of most modern software apps. Developers understand that people want a seamless and hassle-free installation experience, which is why they often provide wizard-based setups that guide you through the process step-by-step.
They also use common installation techniques, such as using a Click-and-Install method or using an executable file that you download and run to initiate the installation process. With most software, you can expect a fairly intuitive and straightforward installation experience, so you can get started using the app in no time!
Verdict
After thoroughly examining the Asus M4A785TD-V EVO motherboard, our verdict is that it's a reliable and solid choice for those looking to build a budget-friendly PC. This board offers a variety of features that make it stand out from its competitors, such as its support for DDR3 memory and its HDMI output, which allows you to easily connect to high-definition displays. It also boasts a robust set of ports and connectivity options that ensure seamless integration with other components.
The M4A785TD-V EVO is very easy to set up and use, making it a great choice for both novice and advanced users. Overall, we were quite impressed with what this motherboard has to offer and highly recommend it for those looking for a solid and feature-packed motherboard without breaking the bank.
Conclusion
In conclusion, the ASUS M4A785TD-V EVO motherboard is a true technological masterpiece that combines top-notch performance, reliability, and innovation in one sleek package. From its impressive specs to its advanced features, this motherboard provides the ultimate gaming and computing experience for all users. Whether you're a professional gamer, a tech enthusiast, or a casual user, the ASUS M4A785TD-V EVO motherboard will definitely exceed your expectations and take your computing experience to the next level.
So why settle for less when you can have the best? Get yourself an ASUS M4A785TD-V EVO motherboard today and witness the true power of technology!"
FAQs
What are the specifications of ASUS M4A785TD-V EVO Motherboard?
The ASUS M4A785TD-V EVO Motherboard supports AMD AM3/AM2+/AM2 CPU and DDR3 1800 (O.C.) / 1600 (O.C.) /1333/1066 MHz memory. It has 2 PCI-E 2.0 x16 slots, 1 PCI-E x1 slot, and 3 PCI slots. It also has 6 SATA 3Gb/s ports and 1 eSATA port.
Is there any overclocking software provided for the ASUS M4A785TD-V EVO Motherboard?
Yes, the ASUS M4A785TD-V EVO Motherboard comes with the ASUS TurboV EVO software, which allows you to easily overclock your CPU, memory, and other system components.
Does the ASUS M4A785TD-V EVO Motherboard support CrossFireX?
Yes, the ASUS M4A785TD-V EVO Motherboard supports ATI CrossFireX technology, allowing you to run dual graphics cards for improved gaming performance.
What kind of audio and LAN features are available on the ASUS M4A785TD-V EVO Motherboard?
The ASUS M4A785TD-V EVO Motherboard features a 8-channel HD audio chipset and a Gigabit LAN controller for fast networking speeds.