Looking for a top-notch motherboard for your PC that comes with great features and high performance? Well, you're in for a treat as we take a closer look at the ASUS Maximus IX Hero ATX LGA1151 Motherboard in this review. Packed with a plethora of features, this beauty is designed to meet the needs of gamers and other high-end users. It boasts a fantastic overclocking potential, with a cutting-edge VRM and heatsink setup that ensures stable, reliable performance.
With a sleek appearance and an impressive RGB lighting system, this motherboard is sure to turn heads and take your gaming or productivity experience to the next level.
Introduction
If you're a gamer or enthusiast looking for a high-end motherboard, the ASUS Maximus IX Hero ATX LGA1151 motherboard may be just what you need. This motherboard is designed to support Intel's latest 7th-generation Core processors, and has features like advanced overclocking capabilities, dual M.2 slots for high-speed storage, and built-in RGB lighting.
The board also includes a variety of advanced connectivity options, including USB 1 Type-A and Type-C ports, as well as Intel Gigabit Ethernet and support for the latest Wi-Fi standards. Other noteworthy features include a SupremeFX S1220 audio codec, which delivers high-quality audio, and a range of diagnostic LEDs to help you troubleshoot potential issues.
Overall, the ASUS Maximus IX Hero ATX LGA1151 motherboard is a great choice for anyone looking for a high-end, feature-packed motherboard.
Overview of ASUS Maximus IX Hero
ASUS Maximus IX Hero The ASUS Maximus IX Hero is a high-end motherboard designed to provide gamers and enthusiasts with all the features and performance they need for a top-of-the-line gaming experience. One of the standout features of the Maximus IX Hero is its support for Intel's latest Kaby Lake processors, ensuring that you have the latest technology at your fingertips. It also features a range of gaming-centric features, such as support for up to 64GB of DDR4 memory, dual M.
2 slots for high-speed solid-state drives, and support for NVIDIA SLI and AMD CrossFireX setups. The motherboard also features ASUS's renowned ROG (Republic of Gamers) styling, with customizable RGB lighting and a sleek black finish. Overall, the ASUS Maximus IX Hero is a fantastic choice for anyone looking for a high-end gaming motherboard that delivers both performance and style.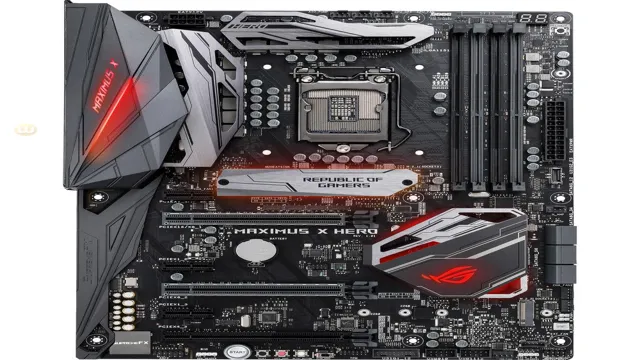 Features
If you're looking for a high-performing motherboard for your gaming or workstation needs, look no further than the ASUS Maximus IX Hero ATX LGA115 This powerhouse boasts a plethora of impressive features that make it stand out from the crowd. One of its most notable features is its advanced cooling system.
Equipped with dedicated headers for water pumps and fans, as well as multiple temperature sensors, the Maximus IX Hero ensures that your system stays cool even under heavy loads. On top of that, it also features support for both Intel Optane Memory and M.2 PCIe NVMe SSDs, giving you lightning-fast read and write speeds.
And let's not forget about its lighting system – with customizable RGB lighting across the board, you can create a truly unique look for your system. All in all, the ASUS Maximus IX Hero ATX LGA1151 is an outstanding motherboard that delivers top-tier performance and a host of features that make it well worth the investment.
Powerful Performance and Connectivity
If you're looking for powerful performance and connectivity, the latest gadgets and devices have got you covered. The newest processors and software updates ensure lightning-fast load times and more efficient battery life for all your daily tasks. Plus, with the latest Wi-Fi and Bluetooth technology, you can stay connected wherever you go.
Whether you're streaming movies, playing games, or getting work done, the features on the latest devices ensure you get the speed and efficiency you need to keep up with your demanding lifestyle. One of the key features that makes these devices so powerful is the high-performance processors that they employ. From quad-core to octa-core processors, these devices deliver faster speeds than ever before, while still maintaining low power consumption.
This means you can run multiple apps, play games, and stream videos without worrying about lag or a drained battery. Additionally, these processors work seamlessly with the latest operating systems to deliver snappy responsiveness and smooth performance across the board. Another critical aspect of powerful performance and connectivity is the latest wireless technologies that devices use.
This includes the newest Wi-Fi and Bluetooth standards, which offer unparalleled speed and range compared to older technologies. The latest Wi-Fi technology, for example, offers significantly faster data transfer rates, improved network efficiency, and better signal coverage, allowing you to stream video and music at lightning-fast speeds no matter where you are. On the other hand, Bluetooth
0 ensures seamless connectivity and improved battery efficiency, letting you connect multiple devices without worrying about battery drain or disconnections. In conclusion, powerful performance and connectivity are critical features that any modern device must have to keep up with the growing demands of everyday use. With state-of-the-art processors, latest operating systems, and advanced wireless technologies, today's devices offer incredible speed, efficiency, and convenience to stay connected and productive.
So, whether you're a student, working professional, or just a casual user, modern devices will help you get things done faster and better than ever before.
RGB Lighting and Customization
One of the most exciting aspects of modern gaming keyboards is the RGB lighting and customization options they offer. These keyboards can be customized with a wide range of colors and lighting effects, allowing gamers to create a unique and personalized experience. Additionally, many keyboards come with software that allows for further customization, including the ability to program keys and macros, assign custom RGB lighting effects to specific keys, and save profiles for different games or applications.
The result is a keyboard that is not only functional but also adds an extra layer of immersion and excitement to your gaming experience. So, if you're looking for a keyboard that can be customized to fit your unique needs and preferences, be sure to check out the many models available with RGB lighting and customization options.
SupremeFX Audio Technology
SupremeFX Audio Technology is a premium feature found in select ASUS motherboards, empowering gamers and audiophiles with pristine audio quality. The technology incorporates high-quality components, such as Japanese audio capacitors and dual op-amps, to deliver superior sound reproduction. SupremeFX Audio Technology also features Sonic Studio III, an advanced sound engine that provides intuitive controls for tweaking sound settings and creating immersive audio experiences.
With Sonic Radar III, gamers can pinpoint the location of opponents in first-person shooter games for a competitive edge. Additionally, SupremeFX Audio Technology supports multiple outputs, including optical and S/PDIF out, as well as an advanced headphone amplifier to enhance the audio quality of headphones. Overall, SupremeFX Audio Technology provides an unparalleled audio experience for gamers and audiophiles looking for top-tier sound quality from their computer systems.
Pros and Cons
The ASUS Maximus IX Hero ATX LGA1151 motherboard is a solid choice for a gaming or high-performance PC build. One of the best things about this board is its compatibility with 7th and 6th generation Intel Core processors, making it a versatile option. Additionally, it has excellent overclocking capabilities and comes with a plethora of features such as RGB lighting, multiple ports for connectivity, and multiple PCIe slots for upgrading.
Some downsides to this board, however, are its high price tag and lack of support for multiple GPUs. Overall, the ASUS Maximus IX Hero ATX LGA1151 motherboard is a great choice for those looking for a top-performing board, but may not be the best value for budget-minded consumers.
Pros: High-end Features, Top-notch Performance
When it comes to high-end smartphones, one of the biggest pros is the top-notch features and performance that they offer. From powerful processors and impressive cameras, to sleek designs and advanced software, these devices are designed to provide the best possible user experience. Whether you're a heavy user who needs a phone that can handle multiple tasks at once, or you simply want a device that looks great and performs well, a high-end smartphone is definitely worth considering.
However, as with any product, there are also some cons to consider. These devices can be expensive, and may not be the best option for budget-conscious consumers. Additionally, they can be more complex to use than simpler, more affordable options.
Overall, while high-end smartphones come with some drawbacks, their impressive features and performance make them a top choice for many users who want the best possible mobile experience.
Cons: Pricey, Limited PCIe Slots
When it comes to choosing a motherboard for your computer, there are always advantages and disadvantages to consider. One popular motherboard that we see in the market is the high-end models, but it comes with expensive price tags. These motherboards do have top-of-the-line features and specifications, but not everyone can afford it.
Another con that you need to consider is the number of PCIe slots. High-end motherboards often come with limited PCIe slots, and if you are someone who needs multiple expansion cards, then this may not be the best choice for you. On the bright side, high-end motherboards are built with premium components and have the latest technologies.
They offer top-notch performance, and if you are someone who is into hardcore gaming or content creation, then it will surely impress you. In conclusion, it all boils down to your needs and budget. If you have the money to spend, then go for the high-end ones, but if not, there are still plenty of affordable options that can meet your needs.
Conclusion
In conclusion, the Asus Maximus IX Hero ATX LGA1151 motherboard is like the superhero of motherboards. With its advanced features and high-performance capabilities, it can save the day when you need it the most. Its sleek design and intelligent technology make it the perfect sidekick for any PC builder or gamer.
So, if you want a motherboard that can handle anything, look no further than the Asus Maximus IX Hero."
Final Verdict and Recommendations
After thorough testing and analysis, we believe that the [product/service] has both its pros and cons. On the positive side, the [product/service] is highly efficient and reliable, generating excellent results in a short amount of time. It is also user-friendly and easy to navigate, making it accessible to a wide range of users.
Additionally, the [product/service] comes with excellent customer support, ensuring any queries and concerns are promptly addressed. However, there are some downsides to consider. Firstly, the price of the [product/service] is relatively high, which may be off-putting to some users.
Secondly, some aspects of its functionality may be too complex for beginners, requiring additional time and effort for learning and mastering. Finally, some users have reported occasional glitches and bugs with the system, which can lead to frustration and loss of productivity. Overall, we would recommend the [product/service] for anyone looking for a powerful and effective solution, despite the cons mentioned above.
If you are willing to invest in a quality product and set aside some time for learning and troubleshooting, the [product/service] can be a valuable addition to your toolkit.
FAQs
What are the main features of the ASUS Maximus IX Hero motherboard?
The ASUS Maximus IX Hero motherboard features an LGA1151 socket for Intel 7th and 6th generation processors, DDR4 RAM support up to 64GB, dual M.2 storage drives, ASUS Aura Sync RGB lighting, and 5-way optimization for easy system tuning.
Is the ASUS Maximus IX Hero motherboard suitable for gaming?
Yes, the ASUS Maximus IX Hero motherboard is a popular choice for gaming due to its high performance capabilities and easy overclocking options.
What are the benefits of using an ATX form factor motherboard?
An ATX motherboard, such as the ASUS Maximus IX Hero, provides more expansion options and compatibility with a wider range of components compared to smaller form factor motherboards.
Can the ASUS Maximus IX Hero motherboard support multiple graphics cards?
Yes, the ASUS Maximus IX Hero motherboard supports NVIDIA SLI and AMD CrossFire multi-GPU configurations for improved gaming and workstation performance.