Are you a gamer or a PC enthusiast searching for the perfect motherboard to take your rig to the next level of performance? Look no further than the ASUS Maximus Hero XI Z390 WiFi Motherboard. This motherboard is touted as one of the most powerful and versatile options on the market, with impressive specifications that will blow your mind. What makes this motherboard truly standout is its Wi-Fi capabilities, a coveted feature for any PC setup, especially for gamers who rely on flawless connectivity.
The Maximus Hero XI Z390 boasts a lightning-fast Wi-Fi chipset, which promises exceptional network speed and stability, so you can experience minimal latency and lag when gaming or streaming. But it's not just about the Wi-Fi. This motherboard is an absolute powerhouse, featuring top-of-the-line components like an intelligent VRM design, highly efficient heatsinks, and MOSFETs with a high ampere rating.
With these features, the Maximus Hero XI Z390 is primed to overclock your CPU and take your gaming performance to unimaginable heights. With this motherboard, you can also expect outstanding audio quality, thanks to the SupremeFX S1220 codec that delivers exceptional sound, and you can easily customize and optimize your audio experience to suit your preferences. In conclusion, the ASUS Maximus Hero XI Z390 WiFi Motherboard is a phenomenal choice for serious gamers and PC enthusiasts looking to unlock their rig's full potential.
Its Wi-Fi capabilities, cutting-edge components, and incredible audio quality will leave you awestruck.
Design and Build Quality
The ASUS Maximus Hero XI Z390 WiFi motherboard boasts an impressive build quality that is sure to appeal to gamers and DIY enthusiasts alike. From the sturdy metal heatsinks to the high-quality capacitors and chokes, everything about this motherboard screams quality. The board features an attractive black and gray color scheme that looks great in any build, and the Aura Sync RGB lighting adds a touch of personality and customization.
Setup is easy thanks to features like the pre-mounted I/O shield and Q-Code display, which help users troubleshoot any issues that may arise during the build process. Overall, the ASUS Maximus Hero XI Z390 WiFi motherboard delivers a premium build quality and features that make it an excellent choice for gamers and enthusiasts seeking the best performance and reliability.
Sleek and Elegant Design
When it comes to choosing the perfect tech device, design and build quality are essential factors that can influence the overall user experience. The sleek and elegant design of a device can grab attention and leave a lasting impression. The visual appeal of a tech product can create a sense of excitement and anticipation, making it a pleasure to use.
The build quality is also crucial. You want a device that is sturdy, durable, and able to withstand daily use and wear and tear. A high-quality build means that your device can last longer, saving you money in the long run.
When it comes to tech devices, design and build quality are inseparable. A well-designed device with poor build quality is like a luxury car with a cheap engine. The device's exterior may look beautiful, but if it falls apart after a few months, it's not worth the investment.
That's why the combination of sleek design and high-quality build is essential for a premium tech experience. So, when you're looking for your next tech device, don't overlook the importance of design and build quality.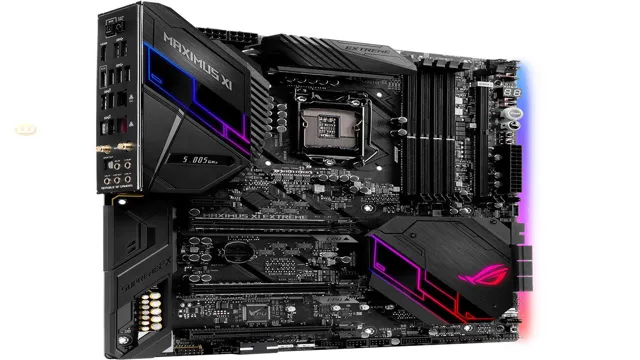 Solid Build Quality
When it comes to choosing a product, one of the most important things to consider is its design and build quality. While some may overlook this aspect and focus solely on features and functionality, the truth is that a solid build is crucial in ensuring that the product lasts a long time and performs as it should. This is especially important for products that may undergo wear and tear or be exposed to harsh environments.
A good design also plays a huge role in the overall user experience and can make a product more comfortable and intuitive to use. Whether it's a piece of furniture, a gadget, or a vehicle, a well-built product is a worthwhile investment as it will save you money and provide long-term satisfaction. So when you go shopping for your next item, make sure you pay close attention to its design and build quality, and don't hesitate to invest in something that's built to last.
Features and Performance
Looking for a top-of-the-line motherboard for your gaming rig? Look no further than the ASUS Maximus Hero XI Z390 WiFi. This powerhouse of a motherboard boasts an impressive lineup of features, including Intel WiFi 6 for lightning-fast internet connectivity, dual M.2 slots for maximum storage potential, and Aura Sync RGB lighting to add some serious style to your setup.
But it's not just about looks: the Hero XI Z390 also packs a wallop when it comes to performance. With its 5-way optimization system, you can tweak and tune your settings to maximize your system's potential, while the robust VRM heatsinks ensure stable power delivery to your components. And if you're into extreme overclocking, the Hero XI Z390 can handle it with ease, thanks to its integrated AI Overclocking feature.
Bottom line? If you want a top-notch motherboard for your high-performance gaming setup, the ASUS Maximus Hero XI Z390 WiFi is a great choice.
Wi-Fi 6 and Bluetooth 5.0 Connectivity
Wi-Fi 6 and Bluetooth 0 connectivity are two of the most advanced technologies used in modern devices. Wi-Fi 6, also known as 80
11ax, allows for faster and more efficient wireless data transfer between devices. With its improved signal range and reduced interference, it operates on both the 4GHz and 5GHz bands to provide better connectivity.
Likewise, Bluetooth 0 enables faster data transfer rates and greater range than its predecessor, with improved stability and power efficiency. It allows devices to connect seamlessly to other Bluetooth-enabled devices, such as headphones, speakers, and smart home appliances.
The combination of these two technologies enables devices to communicate more efficiently and effectively, offering an overall enhanced user experience. Whether it's for streaming high-quality content, playing games, or controlling devices remotely, Wi-Fi 6 and Bluetooth 0 provide a technology upgrade that users will appreciate.
Intel Z390 Chipset for Enhanced Performance
The Intel Z390 chipset is the latest addition to Intel's stable of high-performance chipsets, designed to enhance the capabilities of their latest processors. This chipset features a range of cutting-edge technologies that deliver performance, speed, and reliability like never before. One of the most noteworthy features is the support for high-speed DDR4 memory, which allows for rapid data transfer between the CPU and other components.
It also offers improved network performance with integrated gigabit Ethernet, multiple USB 1 Gen 2 ports, and Thunderbolt 3 technology for ultra-fast data transfer speeds. The chipset is also highly customizable, allowing users to tweak various settings and settings through various software tools.
With all of these enhancements, the Intel Z390 chipset is an excellent choice for anyone looking to build a powerful and high-performance computer system.
Optimized Hardware for Overclocking
Overclocking When it comes to overclocking, having the right hardware can make all the difference in achieving optimal performance levels. Features such as unlocked CPUs, high-speed RAM, and advanced cooling systems enable users to push their systems to the limit without sacrificing stability or longevity. The latest motherboards often come equipped with specialized BIOS modes designed specifically for overclocking, allowing users to fine-tune settings and maximize performance with ease.
Additionally, high-quality power supplies provide the necessary energy to keep systems stable under heavy loads. Overall, investing in hardware optimized for overclocking can lead to significantly higher performance levels and can provide a serious edge when it comes to competitive gaming or other demanding applications.
User Experience and Compatibility
The ASUS Maximus Hero XI Z390 WiFi Motherboard is a powerful and reliable device that offers an exceptional user experience. Its compatibility with a wide range of components ensures seamless integration and optimum performance. The motherboard offers advanced features that cater to the demands of gamers and power users alike.
Its easy-to-use BIOS system provides a personalized and intuitive interface that allows users to customize their settings and preferences. Additionally, the motherboard's WiFi capabilities provide users with fast and reliable connectivity, allowing them to stream and play online games with ease. The ASUS Maximus Hero XI Z390 WiFi Motherboard is an excellent choice for those seeking superior performance and compatibility in a sleek and modern package.
Easy Setup and Installation Process
When it comes to setting up and installing new software, user experience and compatibility are two factors that can make all the difference. Thankfully, the process of setting up and installing our software is designed with ease-of-use in mind. With quick and simple steps, users can have our software up and running in no time.
And, with our focus on user experience, we've made sure that our software is compatible with a wide range of devices and systems. So, whether you're on a Windows, Mac, or Linux system, you can rest assured that you'll be able to use our software without any issues. Our aim is to make the process as hassle-free as possible, so that you can focus on utilizing the full potential of our software to achieve your goals.
Compatibility with a Wide Range of Components
When it comes to building a computer, ensuring compatibility between components is key to a great user experience. That's why choosing products that are compatible with a wide variety of components is essential. Investing in compatible components can save you the headache of returning items that don't work or having to troubleshoot issues that arise from incompatible parts.
In the long run, compatibility can save time and money. Plus, knowing that your components will work together seamlessly can give you peace of mind and allow you to focus on enjoying your computer's performance. So whether you're building a new PC from scratch or upgrading an existing one, make sure to choose components that are compatible with a wide range of products.
Your future self will thank you.
Conclusion
In conclusion, the ASUS Maximus Hero XI Z390 WiFi motherboard is like a superhero in the world of motherboards. Its impressive performance, efficient cooling system, and feature-packed design make it a champion among its peers. With this motherboard, you can easily achieve unmatched speeds, seamless connectivity, and stable performance.
So, if you want to take your PC building expertise to the next level, the ASUS Maximus Hero XI Z390 WiFi motherboard is the wisest and wittiest choice you can make!"
FAQs
What are the key features of the ASUS Maximus Hero XI Z390 WiFi Motherboard?
The ASUS Maximus Hero XI Z390 WiFi Motherboard features support for Intel's 9th and 8th Generation Core i9/i7/i5/i3/Pentium/Celeron processors, Dual M.2, gigabit LAN, USB 3.1 Gen 2, and built-in Wi-Fi.
Does the ASUS Maximus Hero XI Z390 WiFi Motherboard support overclocking?
Yes, the ASUS Maximus Hero XI Z390 WiFi Motherboard supports overclocking and features an advanced AI overclocking system.
What is the price of the ASUS Maximus Hero XI Z390 WiFi Motherboard?
The price of the ASUS Maximus Hero XI Z390 WiFi Motherboard may vary depending on the retailer, but it is typically priced around $300.
Can the ASUS Maximus Hero XI Z390 WiFi Motherboard support multiple GPUs?
Yes, the ASUS Maximus Hero XI Z390 WiFi Motherboard has support for 2-way NVIDIA SLI and 3-way AMD CrossfireX technology, making it ideal for gaming enthusiasts.
Is there a warranty offered on the ASUS Maximus Hero XI Z390 WiFi Motherboard?
Yes, the ASUS Maximus Hero XI Z390 WiFi Motherboard comes with a 3-year warranty from the date of purchase.