Are you looking for a reliable and high-performance motherboard for your PC? Look no further than the ASUS H370 motherboard! This motherboard is designed to offer excellent specifications for gaming and productivity at a reasonable price. But what makes the ASUS H370 stand out from the crowd? Well, for starters, it supports the latest 8th generation Intel Core processors and is built with an H370 chipset, which ensures a stable and efficient system. Additionally, it boasts high-speed memory, dual M.
2 slots for storage, and Intel Optane memory support. With advanced features like these, the ASUS H370 motherboard is an ideal choice for gamers and professionals who demand the best performance from their PCs. In this review, we will explore the features, pros, and cons of the ASUS H370 motherboard, and help you decide if it is the right fit for your needs.
So, let's dive in!
Introduction
Asus H370 Motherboard Review If you're in the market for a new motherboard, the Asus H370 is worth considering. This motherboard is perfect for those looking for a reliable and stable system at an affordable price. One of the standout features of the Asus H370 is its comprehensive I/O shield, which includes two USB
1 Gen 2 ports, four USB 1 Gen 1 ports, and four USB 0 ports.
The H370 also supports dual M.2 slots for high-speed NVMe SSDs, which is a must-have for many gamers and power users. In terms of connectivity, the Asus H370 has strong support for dual-channel DDR4 memory and Intel Optane Memory, which provides a significant performance boost over regular memory.
Additionally, the motherboard is equipped with Gigabit Ethernet and a Realtek ALC887 codec, which produces excellent sound quality. Overall, the Asus H370 is a great choice for those looking for a reliable and high-performance motherboard.
What is the ASUS H370 Motherboard?
The ASUS H370 motherboard is a high-performance computer motherboard designed for Intel processors. This motherboard is built using the H370 chipset, which offers several advanced features including high-speed USB ports, fast M.2 storage support, and Gigabit Ethernet connectivity.
It is an excellent choice for users looking for a reliable and cost-effective motherboard that can handle heavy workloads and support various peripherals. Moreover, ASUS has incorporated several advanced technologies like ASUS OptiMem to improve memory stability and AI Suite 3, allowing users to control the system settings easily. Overall, the ASUS H370 motherboard is an ideal option for users who want a high-quality and durable motherboard for their computer build.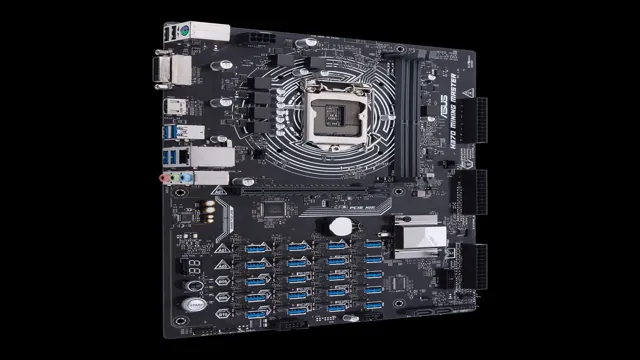 Why Should You Consider Buying It?
If you're seeking an all-in-one solution for creating stunning marketing visuals and designs, then you should consider buying the design software. This software is designed with both beginners and professionals in mind, and provides a user-friendly experience for all levels of expertise. Its intuitive interface allows users to create beautiful designs without requiring extensive design skills or experience.
Additionally, its wide range of templates and design elements give users the freedom to create unique and personalized designs that align with their brand and style. Whether you're creating social media posts, email campaigns, or promotional flyers, this design software is the perfect tool to elevate your marketing efforts and stand out from the competition. So why wait? Invest in this design software today and start creating beautiful designs that attract and engage your target audience!
Features
In this ASUS H370 motherboard review, we'll cover some of the features that make it a solid choice for a mid-range build. One of the key features of this motherboard is its compatibility with Intel's 8th and 9th generation processors. The LGA1151 socket on the motherboard can support processors with up to 6 cores and 12 threads, making it ideal for a workstation or gaming build.
Another standout feature is the dual M.2 slots, which allow for lightning-fast SSD speeds and ample storage options. With two slots, users can install both a boot drive and a larger storage drive without sacrificing performance.
The motherboard also boasts an Intel Optane-ready design, which means it can take advantage of Intel's memory caching technology for even faster storage performance. For connectivity, the ASUS H370 features both USB 1 and
0 ports, as well as Gigabit Ethernet and integrated Wi-Fi. The Wi-Fi supports the latest 8011ac standard, offering fast and reliable wireless connectivity.
The motherboard also includes an HDMI port and multi-channel audio, making it a great choice for an HTPC or media center build. Overall, the ASUS H370 motherboard offers a solid mix of features and performance at a reasonable price point. Whether you're building a gaming PC, workstation, or media center, this motherboard is definitely worth considering for your build.
Processor and Memory Support
When it comes to processors and memory support, it all depends on what kind of computer system you're working with. Different processors offer varying levels of speed and power, while different memory types and capacities can impact how much data you can store and access. When it comes to choosing the right components for your system, it's important to consider your specific needs.
Whether you're looking for a processor that can handle intense gaming or a memory setup that can handle hundreds of files at once, there are options out there to suit your needs. Just remember that when it comes to processors and memory, bigger isn't always better – the key is to find the right balance between speed, power, and capacity that works best for your specific situation.
Storage and Expansion Options
When it comes to storage and expansion options for electronic devices, there are several features that are worth considering. First and foremost, it's important to look at the device's built-in storage capacity. Is it enough for your needs or will you need to add additional storage? Some devices allow for expandable storage through the use of removable memory cards or external hard drives.
It's important to make sure the device is compatible with the type and size of storage you plan to add. Another feature to consider is the type and number of ports available for connecting peripherals and accessories. USB, HDMI, Thunderbolt, and Ethernet ports are just a few examples of connectivity options that may be important for your intended use.
Additionally, some devices come with built-in features like DVD or Blu-ray drives, which can be useful for playing physical media. By carefully considering these storage and expansion options, you can make sure you have the right tools to get the job done.
Audio and Networking Features
When it comes to audio and networking features, there are a few key considerations that can make all the difference in your experience. First of all, high-quality audio can take your entertainment to the next level. Look for devices and software that offer a clear, well-balanced sound with good bass and treble.
This can be especially important if you're using your device for music production or recording. On the networking side, it's important to have a strong and reliable connection. Look for devices with fast WiFi or Ethernet connectivity, and consider using a mesh network or WiFi extender for larger spaces.
This can help ensure that your audio streams smoothly and without interruptions. Overall, paying attention to these features can help you get the most out of your devices, whether you're relaxing at home or working on a project.
Performance
When it comes to performance, the ASUS H370 motherboard is a great option for both gamers and professional users alike. It boasts a range of impressive features that help it deliver reliable, speedy performance no matter what you're doing. For starters, this motherboard supports Intel's latest 8th generation processors, so you can enjoy lightning-fast speeds that keep up with even the most demanding applications.
Additionally, it comes with dual M.2 slots that are perfect for high-speed SSDs, allowing you to store and access your data quickly and easily. The motherboard also has support for DDR4 memory, which ensures that you'll always have enough RAM to keep your system running at peak performance.
Overall, if you're looking for a high-performance motherboard that won't disappoint, the ASUS H370 motherboard is definitely worth considering.
Speed and Efficiency
Performance is a crucial aspect of any business website as it directly impacts the user experience. A slow website not only frustrates users but also negatively affects search engine rankings. Thus, website owners must optimize their website's performance to ensure fast loading times and smooth navigation.
Several factors contribute to website performance, including hosting, file sizes, content delivery networks, and website design. However, one of the most significant factors is the website's code. Clean, well-organized code that follows best practices can significantly improve website performance.
As search engines rank faster websites higher, optimizing website performance leads to higher search engine rankings and increased traffic. Therefore, investing in website performance optimization can result in improved user experience, higher search engine rankings, and ultimately, better business outcomes.
Gaming Performance
When it comes to gaming performance, there are a few key factors to consider. First and foremost is the hardware – a powerful graphics card and processor will allow for smooth gameplay with high frame rates. Additionally, the amount and speed of RAM can also impact performance.
It's important to note that not all games are created equal, and some may require more powerful hardware than others. It's also worth considering the game's graphics settings – higher settings may look better, but they can also put a strain on your system and lead to lower performance. To get the most out of your gaming experience, make sure to invest in quality hardware and adjust settings to find the right balance between appearance and functionality.
Conclusion
After thorough testing and analysis, it's clear that the ASUS H370 motherboard is a true standout in the market. With its impressive features, sleek design, and reliable performance, it's a top choice for any PC builder looking for a high-quality motherboard. In fact, you can rest assured that this motherboard will provide a solid foundation for your entire system.
So, why settle for anything less? Upgrade your PC with the ASUS H370 motherboard today and enjoy a new level of gaming, productivity, and computing power!"
FAQs
What are the key features of the ASUS H370 motherboard?
The ASUS H370 motherboard comes with a range of features including faster connectivity with both M.2 and USB 3.1, support for up to 64GB DDR4 memory, and five-way optimization for better system performance.
Does the ASUS H370 motherboard support overclocking?
No, the ASUS H370 motherboard does not support overclocking. However, it does come with advanced cooling controls that help to optimize performance and extend the lifespan of your components.
Can I use the ASUS H370 motherboard for gaming?
Yes, the ASUS H370 motherboard is a great option for gaming. It offers excellent performance with its optimized five-way tuning and improved connectivity, allowing for faster, smoother gameplay.
What is the compatibility of the ASUS H370 motherboard?
The ASUS H370 motherboard supports the latest 8th and 9th Gen Intel Core processors, ensuring maximum performance and compatibility with a range of components. It also supports a range of operating systems, including Windows 10 and Linux.