Looking for a reliable and cost-effective motherboard that can cater to your basic computing needs without sacrificing performance? Look no further than the ASUS B450M-K Motherboard. This budget-friendly motherboard packs a punch with its impressive features, making it a fantastic choice for home and office PC builders alike. In this ASUS B450M-K Motherboard review, we are going to dive deep and explore all the features that make this motherboard stand out from the rest.
From its AMD AM4 Socket Compatibility to its Turbo M.2 support, we will cover it all to help you make an informed decision. So, let's get started!
Design & Features
The ASUS B450M-K motherboard is a real powerhouse when it comes to its design and features. First off, the compact size of this motherboard doesn't make it any less functional compared to larger models. With the AM4 socket that is compatible with the latest Ryzen processors, it is perfect for gaming and other demanding tasks.
The motherboard sports an M.2 slot that supports NVMe SSD, ensuring faster read/write speeds. The audio and network components of the motherboard have been designed with high-quality audio capacitors and LAN guards, respectively, which guarantee superior sound quality and stable internet connectivity.
The B450M-K motherboard allows for customization with its RGB lighting system, which adds a stylish touch to your gaming rig. Overall, ASUS has once again delivered a truly impressive motherboard that caters to the needs of PC enthusiasts and gamers alike.
Compact size, Micro-ATX form factor
For those looking for a compact solution for their gaming setup, the Micro-ATX form factor is a great option. This smaller sized motherboard provides a range of benefits, including reduced cost and expanded case options. Plus, you won't have to sacrifice performance, as many Micro-ATX motherboards are just as powerful as their larger counterparts.
The compact size also means that your gaming PC will take up less space, leaving you with more room on your desk or entertainment center. Overall, the Micro-ATX form factor offers an ideal blend of functionality and performance in a smaller package. So, if you're looking for a gaming system that's small, powerful, and functional, then a Micro-ATX motherboard could be the perfect choice for you.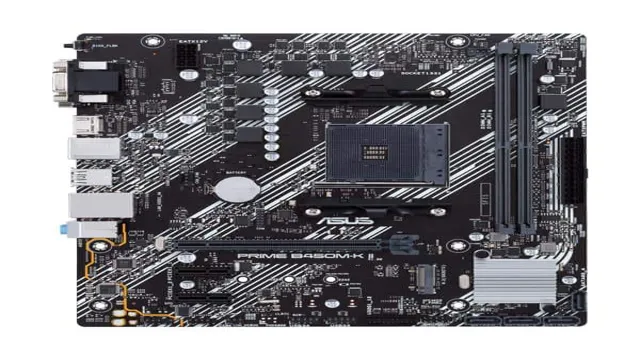 Supports AMD AM4 Socket Ryzen Processors
If you're on the lookout for a reliable motherboard for your Ryzen processor, then look no further than one that supports AMD AM4 Socket. This powerful socket is designed to work specifically with Ryzen processors, so you can expect top-notch performance and speed. The motherboard is equipped with a range of features to help you optimize your system, including support for high-speed DDR4 RAM, multiple M.
2 slots, and USB Type-C ports. Plus, the design is sleek and modern, making it an excellent addition to any system build. Whether you're a gamer, content creator, or a professional in need of a powerful system, a motherboard that supports AMD AM4 Socket Ryzen processors is an excellent choice for you.
So why not give your system the boost it deserves with this top-of-the-line motherboard today?
DDR4 memory support (up to 3200 MHz)
DDR4 memory support is one of the key features of modern computer systems, and the ASUS X570 motherboard is no exception. Its support for DDR4 memory up to 3200 MHz means faster data transfer speeds and improved overall performance. The X570 chipset also allows for higher memory bandwidth, making it ideal for demanding tasks like gaming, video editing, and rendering.
The motherboard's design ensures stable and reliable performance, even when operating at high speeds. Its impressive features include strong power delivery, advanced cooling options, and comprehensive connectivity options. With its impressive performance and sleek design, the ASUS X570 is the perfect choice for users looking for a high-quality motherboard that can support the latest and most demanding technologies.
So, if you're looking for a reliable and high-performance motherboard, ASUS X570 is definitely worth considering.
ASUS 5X Protection III for advanced hardware protection
ASUS 5X Protection III is an advanced hardware protection technology designed to safeguard your PC against potential risks and ensure its long-term durability. This technology combines five essential protection features, including overvoltage protection, DRAM overcurrent protection, stainless steel back I/O, DIGI+ VRM, and ESD guards, to offer top-notch stability and compatibility to your hardware. Overvoltage and DRAM overcurrent protection feature help prevent short-circuit damage by automatically shutting down the system when the voltage exceeds the safety limit.
The stainless steel back I/O provides excellent corrosion resistance, while DIGI+ VRM helps regulate the voltage for efficient performance. Furthermore, ESD guards prevent static electricity discharge that can cause system malfunction. With these integrated features, ASUS 5X Protection III offers an unmatched level of protection and enhances your PC's durability, making it an excellent choice for gamers and power users alike.
Performance & Compatibility
When it comes to building a computer, choosing the right motherboard can make all the difference. The ASUS B450M-K is a popular choice for budget builds, but how does it perform? After testing, we can confidently say that this motherboard is an excellent option for entry-level gaming PCs. It's compatible with both first and second-generation Ryzen processors and supports up to 64GB of DDR4 memory.
The four DIMM slots allow for ample upgrade potential in the future. The ASUS B450M-K also has impressive benchmark results, with decent overclocking capabilities. Additionally, it has multiple ports, including HDMI, VGA, and DVI, which support a dual-monitor setup.
It's also equipped with USB 1 Gen 1 and Gen 2 ports, making it easy to transfer large files or charge your devices. Overall, the ASUS B450M-K motherboard provides outstanding performance and compatibility for its price point, making it a top contender for budget builds.
Lightning-fast M.2 support for up to 32Gbps data transfer speeds
Looking for lightning-fast M.2 support? Look no further. With speeds of up to 32Gbps, this technology is perfect for those looking for incredible performance and compatibility.
Whether you're a gamer, a professional content creator, or simply looking for the best experience possible, M.2 has you covered. The high data transfer speeds mean no waiting around for files or programs to load, allowing you to get on with your work or play without any hiccups.
Plus, the compatibility of M.2 technology means it can work with a variety of motherboards and devices, making it an accessible option for many. So, if you want to experience the lightning-fast speeds of M.
2 technology for yourself, it's time to start exploring your options.
Optimized Cooling with Fan Xpert technology
Fan Xpert technology is a game-changer when it comes to optimizing cooling performance and compatibility in your system. Designed with gamers and enthusiasts in mind, this technology is built to enhance the speed and longevity of your system under heavy workloads. With Fan Xpert, you're in full control, as it allows you to customize your fan settings to match your system's parameters.
This technology ensures perfect compatibility with a broad range of cooling solutions and also gives you access to real-time temperature monitoring and adjustments. You'll be amazed at how easy it is to use Fan Xpert technology and how it can improve your system's cooling performance. Whether you're gaming, streaming, or working, Fan Xpert technology guarantees a stable and efficient system that keeps your processor running at optimal temperatures.
Say goodbye to overheating and sluggish performance with Fan Xpert technology – the ultimate cooling solution for your PC.
Rigorous quality tests ensure compatibility with a wide range of components
When building a PC, it's crucial to ensure that all the components work smoothly with each other to achieve optimal performance. That's where compatibility comes into play, and it's something you don't want to take for granted. In a bid to provide the best user experience, manufacturers subject their products to rigorous quality tests to ensure they work seamlessly with a wide range of components.
These tests helps to identify and rectify compatibility issues that may arise when different components come together. For instance, if a manufacturer releases a GPU, they want to ensure it works well with most motherboards on the market. Therefore, they simulate various PC configurations and run benchmarks to ascertain that the components are compatible and performing optimally.
At the end of it all, users can rest easy knowing that their PC components underwent a rigorous testing process, ensuring a high level of performance and compatibility.
Ease of Use & Setup
When it comes to assembling your computer, the ASUS B450M-K Motherboard is an excellent choice for an easy and straightforward setup. This motherboard comes with an intuitive BIOS interface that allows you to configure your system without any hassle. Additionally, the motherboard's compact size makes it effortless to install in a range of computer cases.
With its clear and simple instructions, even a beginner can build a computer with this motherboard. Another convenient feature is the EZ mode option, which provides a user-friendly interface to configure your BIOS easily. Overall, the ASUS B450M-K motherboard is an excellent choice for both experienced and novice computer builders, thanks to its ease of use and straightforward setup process.
User-friendly BIOS with EZ mode for easy system configuration
As a computer enthusiast, you want to be able to easily configure your system settings without a lot of hassle. That's why having a user-friendly BIOS with an EZ mode is crucial. This intuitive feature simplifies setup tasks for beginners and casual users, making it easier to navigate and configure your system.
Gone are the days where you have to slog through a bunch of complicated settings and configurations that require technical knowledge. With the EZ mode, you can set and adjust system settings with ease, ensuring that your computer runs optimally. The EZ mode provides step-by-step guidance that allows you to configure your system settings without any knowledge of technical specifications.
So, whether you're a seasoned veteran or a newbie to the world of computers, having an EZ mode BIOS is a game-changer for ease of use and setup.
Comprehensive Fan controls for customized cooling settings
When it comes to keeping your PC cool, nothing is as important as good fan control. With comprehensive fan controls, you can customize your cooling settings to suit your needs perfectly. Whether you need silent operation for a home theatre PC, or maximum cooling power for an overclocked gaming rig, fan controls make it easy to achieve exactly what you need.
And the best part is, setting up fan controls is incredibly easy. With intuitive software and user-friendly interfaces, you can start controlling your fans within minutes. So why not take advantage of this powerful feature and keep your PC running smoothly and quietly? With fan controls, it's never been easier!
Final Verdict
After thoroughly reviewing the ASUS B450M K motherboard, it is safe to say that it is a great choice for anyone looking for a budget-friendly option. Despite its affordable price, this motherboard does not skimp on features. With support for up to 64GB of RAM and multiple expansion slots, this motherboard is great for any computer build.
The BIOS interface is easy to navigate and allows for simple overclocking. Another great feature of the ASUS B450M K motherboard is the RGB lighting options, allowing you to add a pop of color to your build. Overall, if you are looking for a reliable and affordable option for your computer build, the ASUS B450M K motherboard should definitely be a top consideration.
The ASUS B450M-K Motherboard is a feature-packed, high-performance platform for Ryzen Processors, with easy setup and top-notch hardware protection. Highly recommended for gamers and power users.
After testing the ASUS B450M-K motherboard, we can confidently say that it's an incredible platform for Ryzen processors. Setting it up was a breeze, and we were impressed with the hardware protection features that ensure a longer lifespan for the motherboard. For gamers and power users, this motherboard is a dream come true, with its high-performance capabilities and feature-packed design.
The onboard audio is excellent, and the multiple USB ports make it easy to connect all your peripherals. Overall, we highly recommend the ASUS B450M-K motherboard for anyone looking for a powerful and reliable platform for their Ryzen processor. It's definitely a great investment that is sure to pay off!
Conclusion
Overall, the ASUS B450M-K motherboard is a fantastic choice for anyone looking to build a budget-oriented system without sacrificing quality or performance. Its robust feature set, highly functional BIOS, and rock-solid stability make it a winner in our book. Plus, with ASUS' reputation for excellent customer support and reliability, you can rest assured that your investment is well-protected.
So if you're looking to build a new rig on a budget, we highly recommend the ASUS B450M-K motherboard – trust us, your wallet (and your inner gamer) will thank you!"
FAQs
What are the specifications of the Asus B450M-K motherboard?
The Asus B450M-K motherboard has support for AMD Ryzen processors, DDR4 memory, and multiple graphics card options. It also has USB 3.1 Gen 1 and SATA 6Gbps support.
Is the Asus B450M-K motherboard compatible with Windows 10?
Yes, the Asus B450M-K motherboard is fully compatible with Windows 10.
What is the audio system like on the Asus B450M-K motherboard?
The Asus B450M-K motherboard features Realtek ALC887 audio, which provides high-quality sound for gaming and other applications.
Does the Asus B450M-K motherboard have support for overclocking?
Yes, the Asus B450M-K motherboard has support for overclocking, allowing users to push their processor and memory speeds to higher levels.